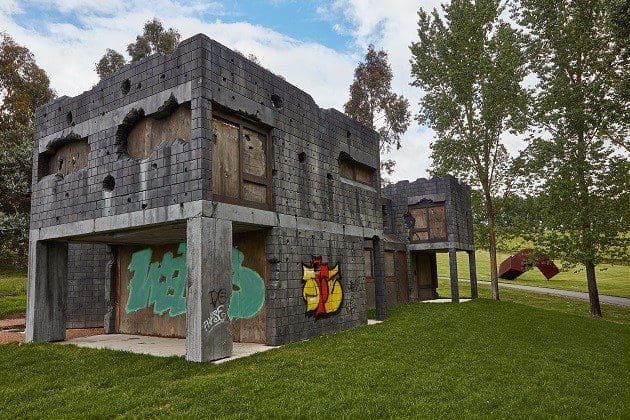 Valhalla
Callum Morton's awe inspiring installation Valhalla has been given a permanent home at TarraWarra Museum of Art.
Originally created for the 52nd Venice Biennale (La Biennale di Venezia) in 2007, the work has been installed at the entrance to the TarraWarra grounds, sitting resplendently on the crest of a hill, greeting visitors as they arrive.
When viewed from the outside, Valhalla appears as an apocalyptic folly set in an idyllic landscape. By contrast, inside the work is a pristine, anxious and unexpected space.
Originally conceived in the wake of the destruction of Afghanistan, Valhalla is a three-quarter scale remake of Morton's childhood home in ruin – collapsing the artist's own personal history with our collective history.
Entry to Valhalla is free during TarraWarra Museum of Art's regular opening hours.
Visitors please note, Valhalla will at times include lighting and smoke effects*. Please ask staff for information regarding access requirements or any other queries.
3 December—31 December