One of Australia's biggest art fairs is back at Carriageworks, with over 96 booths and 500 artists. Our Art Guide editors have curated their top picks at Sydney Contemporary, spanning intimate still life paintings, cats draped over shoulders and emerging artists.
Feels like home at Egg and Dart, Martin Browne Contemporary, and Arthouse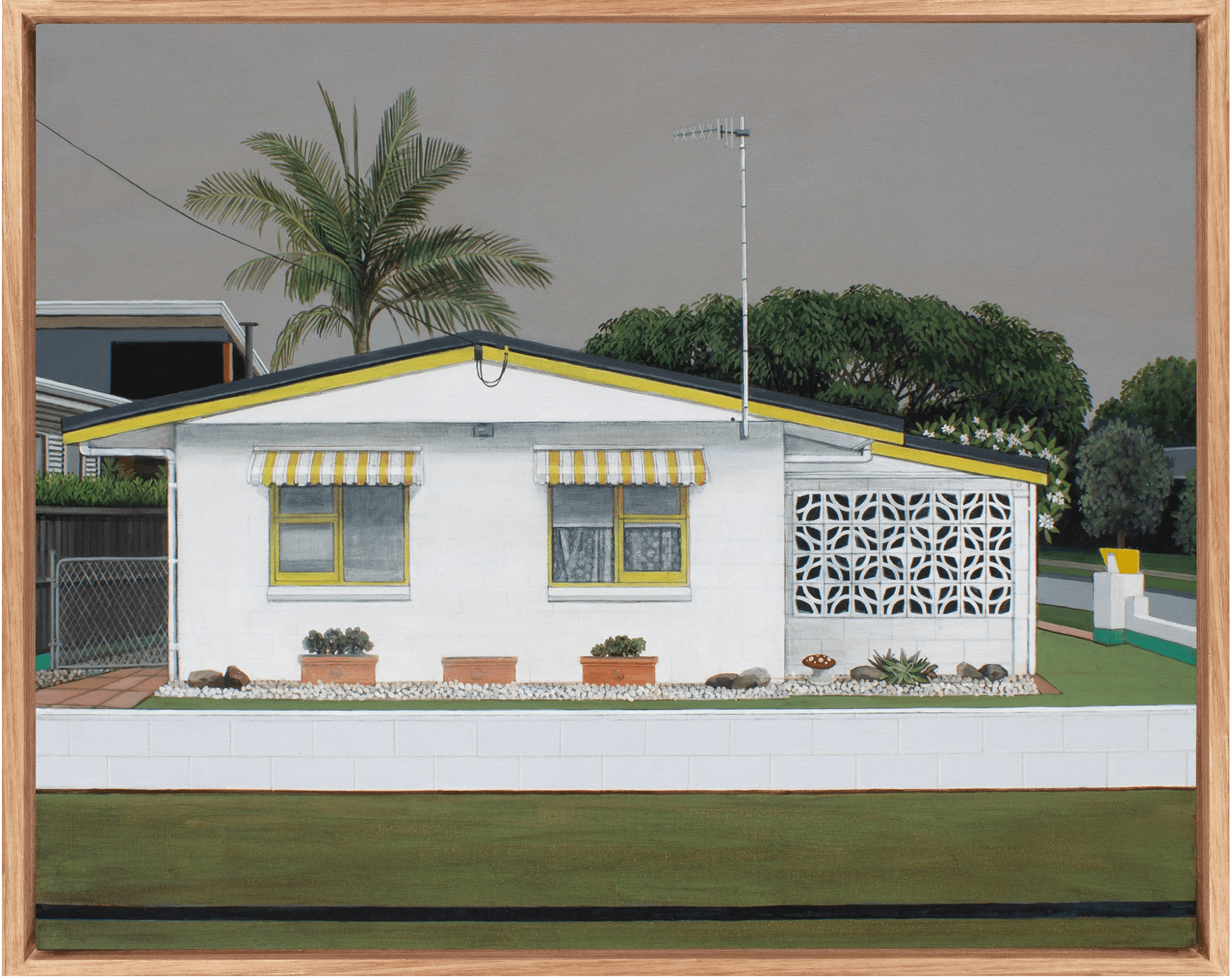 Feels like home at Egg and Dart, Martin Browne Contemporary, and Arthouse
Home, domesticity, dwellings, gentrification and the humble or constructed architecture of where we live our lives — these themes always feel relevant, exemplified by a smattering of works capturing houses. There's Robyn Sweaney at Arthouse who captures the deceiving simplicity of house fronts, many in a nostalgic or mid-century style, while at Egg and Dart is Christopher Zanko's works of acrylic on hand carved wood, which give a view of suburban housing that is at once sentimental and questioning of urban sprawl. There's also a vivid yet tranquil poolside painting by Michael Muir at Martin Browne Contemporary. 
Dhambit Munuŋgurr at Roslyn Oxley9 Gallery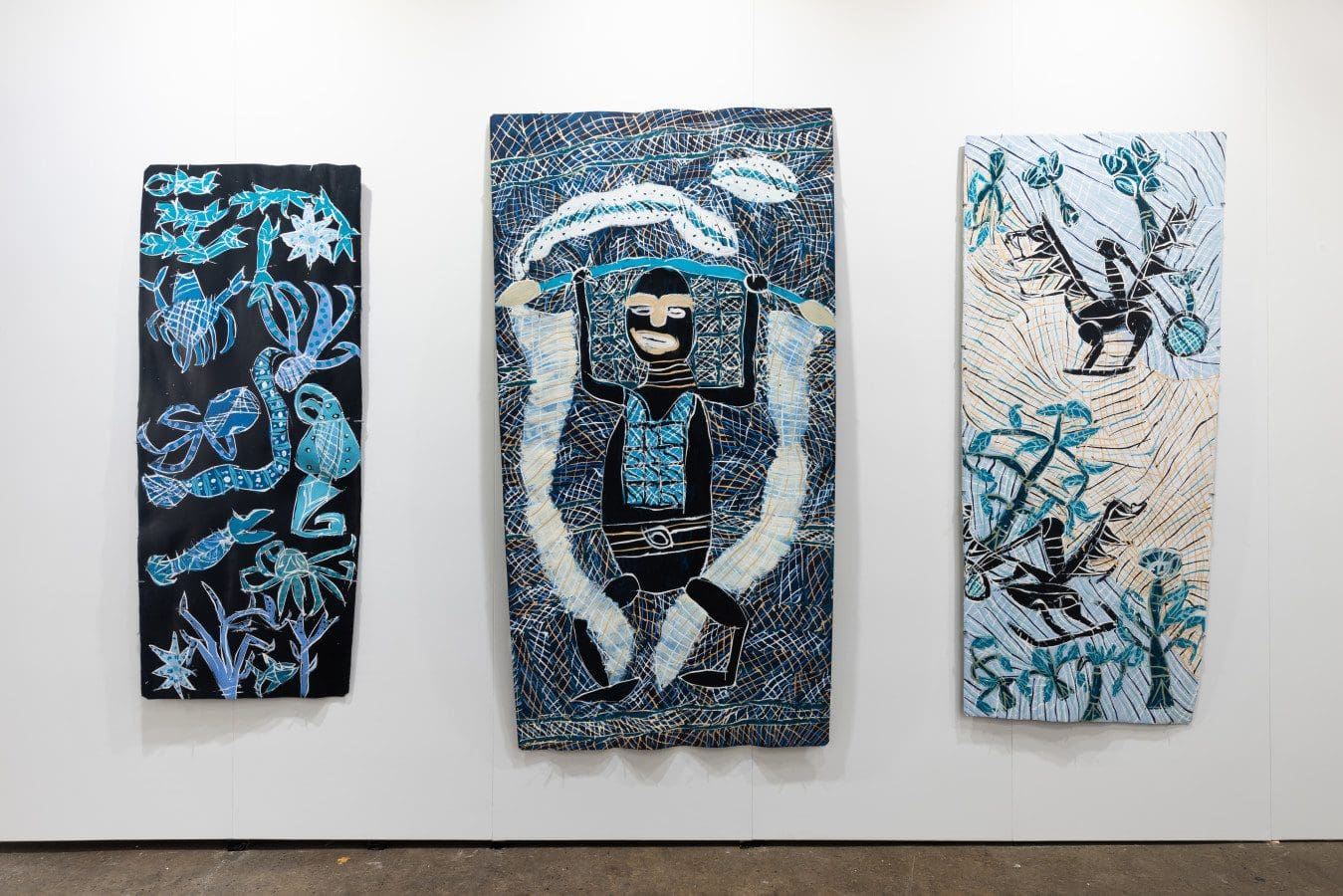 Dhambit Munuŋgurr at Roslyn Oxley9 Gallery
It was a revelation when we first saw Dhambit Munuŋgurr's incredible, blue evocations of Country at the 2020 NGV Triennial, and they feel no less potent or wondrous at Sydney Contemporary. Roslyn Oxley9 have dedicated their entire booth to Munuŋgurr's newest blue bark paintings and larrakitj (hollow logs). As curator Kelly Gellatly chronicles in our recent profile of the artist, she's been painting for over 40 years, cultivating a practice where art, politics and Yolŋu lore coexist.

Delights at the National Art School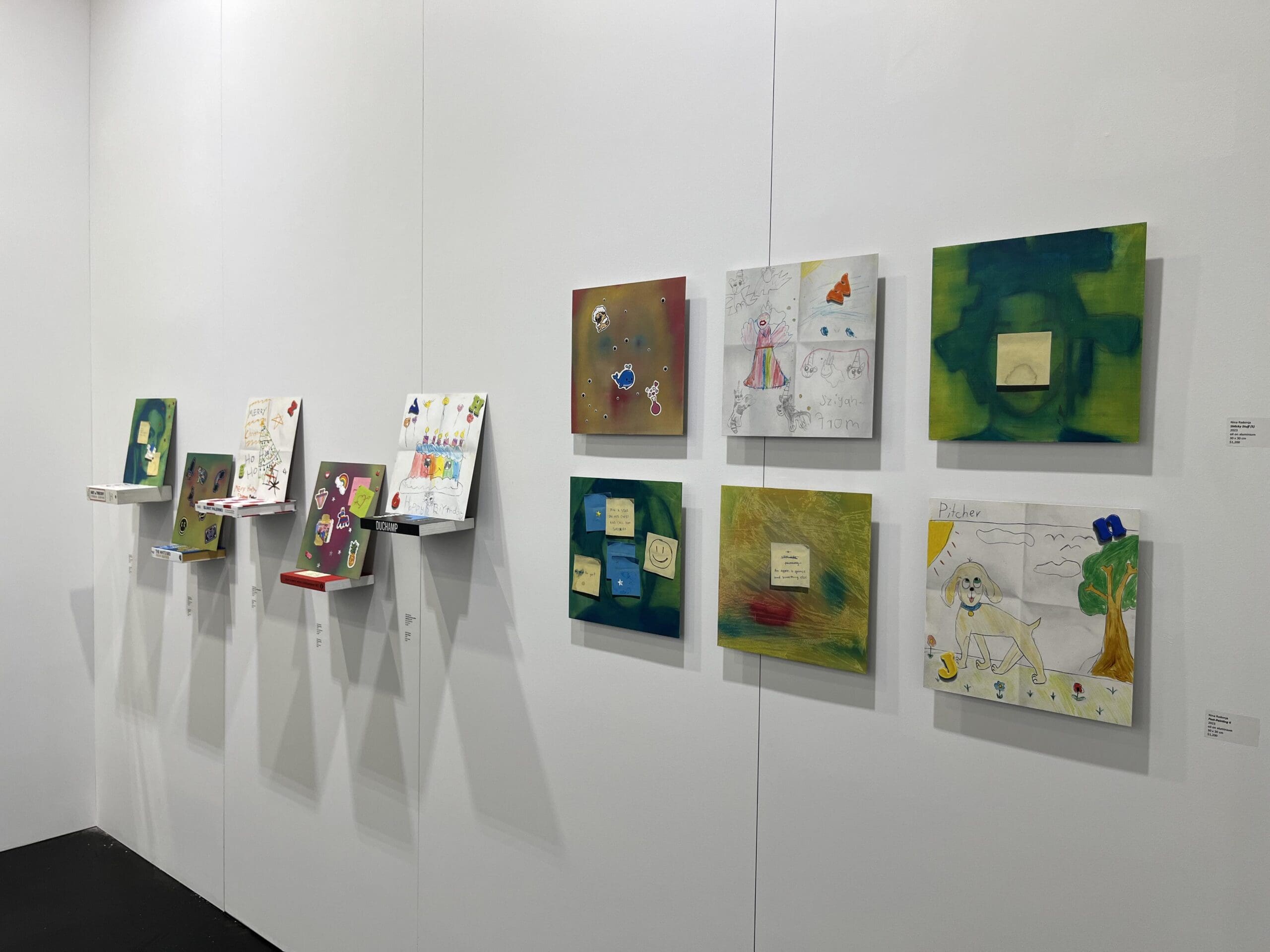 Delights at the National Art School
In a smaller exhibiting space at the art fair, what one gallerist called "Sydney Contemporary Lite" in a complimentary way, is the National Art School booth which features gems from emerging arists like Nina Radjona, who is showing playful oil works which take cue from artists like Magritte and Warhol who complicate how we see. Blending low-fi, pop cultural imagery with high technique, it's hard to believe Radjona's painting of a post-it note isn't actually a post-it note. Other highlights at this booth are recycled aluminium sculptures by Chrystal Rimmer, a suite of paintings by Madison Baird, and Maddy O'Connor's paintings, with one reading, "God's first mistake was giving me free will. The second? A body."

The masters at Gow Langsford Gallery and Justin Miller Art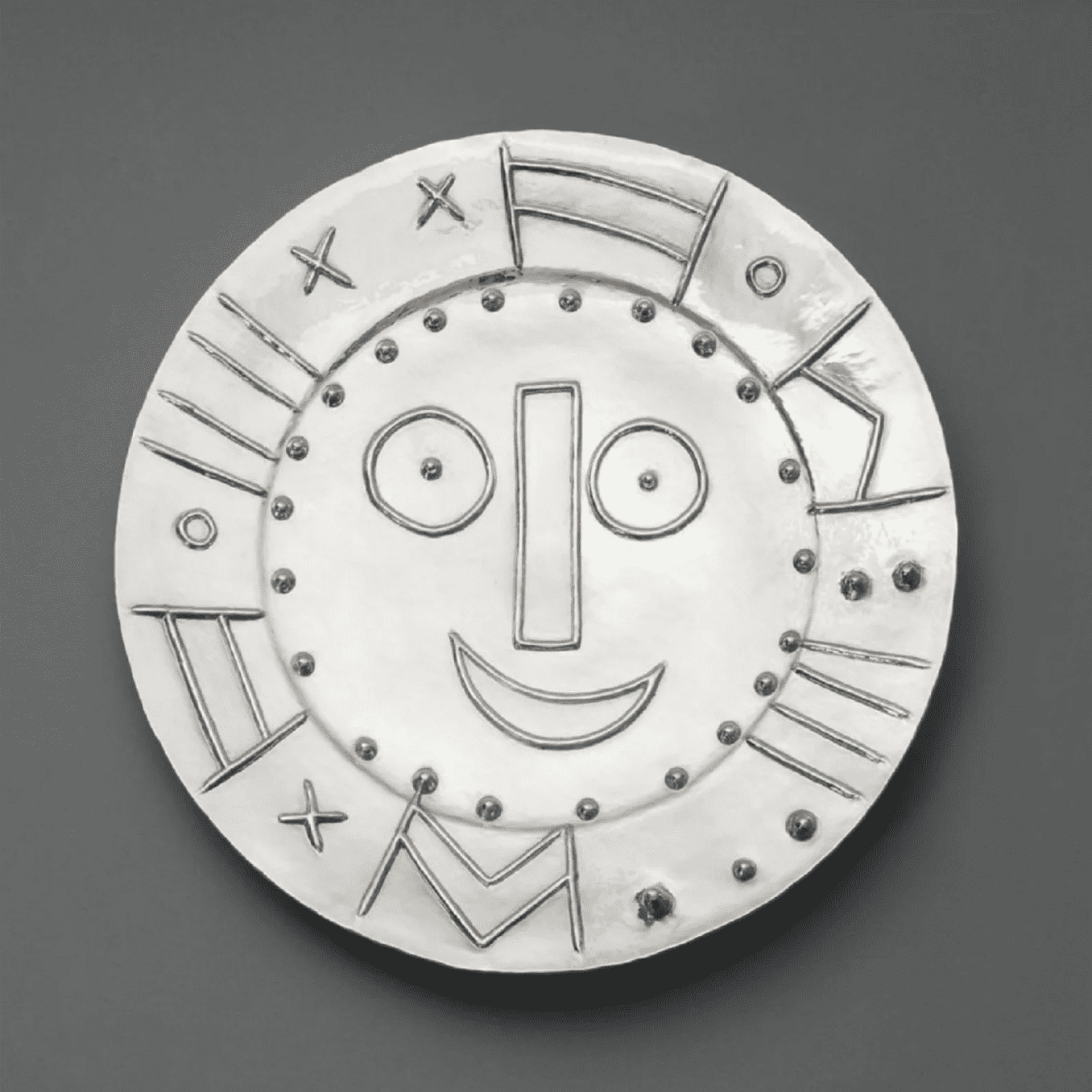 The masters at Gow Langsford Gallery and Justin Miller Art
If the secondary market is your interest, or you just enjoy viewing the works of the famous, Justin Miller Art is central, exhibiting Andy Warhol (with works that one wouldn't typically associate with Warhol), Sidney Nolan and a stunning Emily Kame Kngwarreye (Utopia Art Sydney are also showing an Emily Kame Kngwarreye priced at $1 million). There's a 4.8 metre-long waterfall painting by Japanese artist Hiroshi Senju, priced at USD $650,000 and a Jeffrey Smart available for just over half a million. Even by the middle of the VIP preview many works had red dots. Meanwhile Gow Langsford Gallery is exhibiting, and Jeffrey Smart, Justin Miller Art. Also a notable mentioned of the six-metre restored artwork by Virginia Cuppaidge at Nicholas Thompson, Cytheria, 1977, which we caught the story behind.

The 'Future' with EG Projects, LON Gallery and Saint Cloche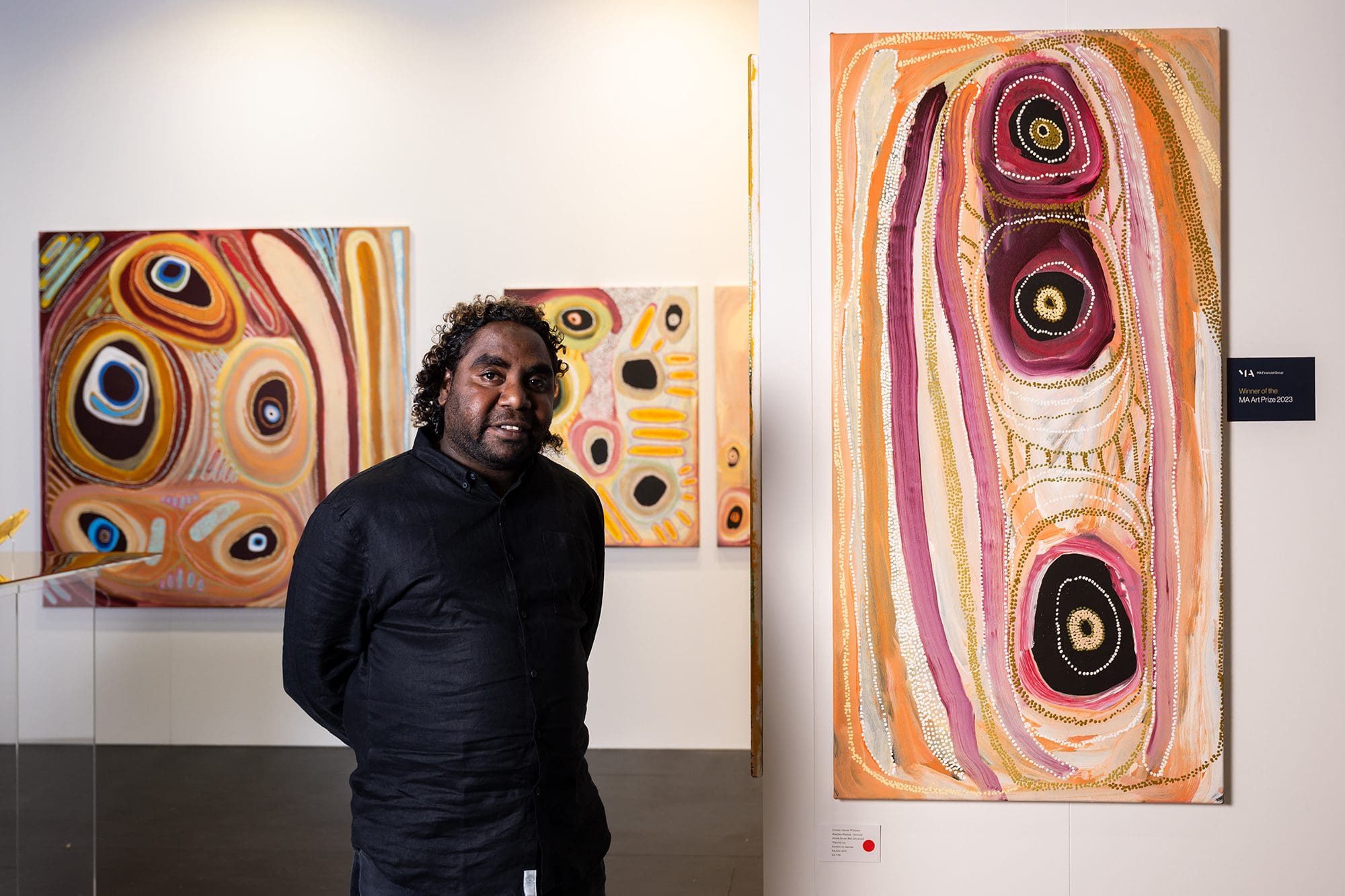 The 'Future' with EG Projects, LON Gallery and Saint Cloche
In a section titled FUTURE, which feature smaller and emerging galleries, is the unmissable of Manyjilyjarra artist Corban Clause Williams paintings which capture the time he has spent on Country at Kaalpa (they also won a new, $10,000 acquisitive prize at Sydney Contemporary, the MA Art prize). There's also a delicate series of large vessels by Ryan Hancock at LON Gallery which hold multiple narratives, and there's paintings and ceramics by Saxon JJ Quinn at Saint Cloche which imbue nostalgia and criticality that anyone who grew up in the 1990s or 2000s will immediately understand.
Jenny Watson at GAGPROJECTS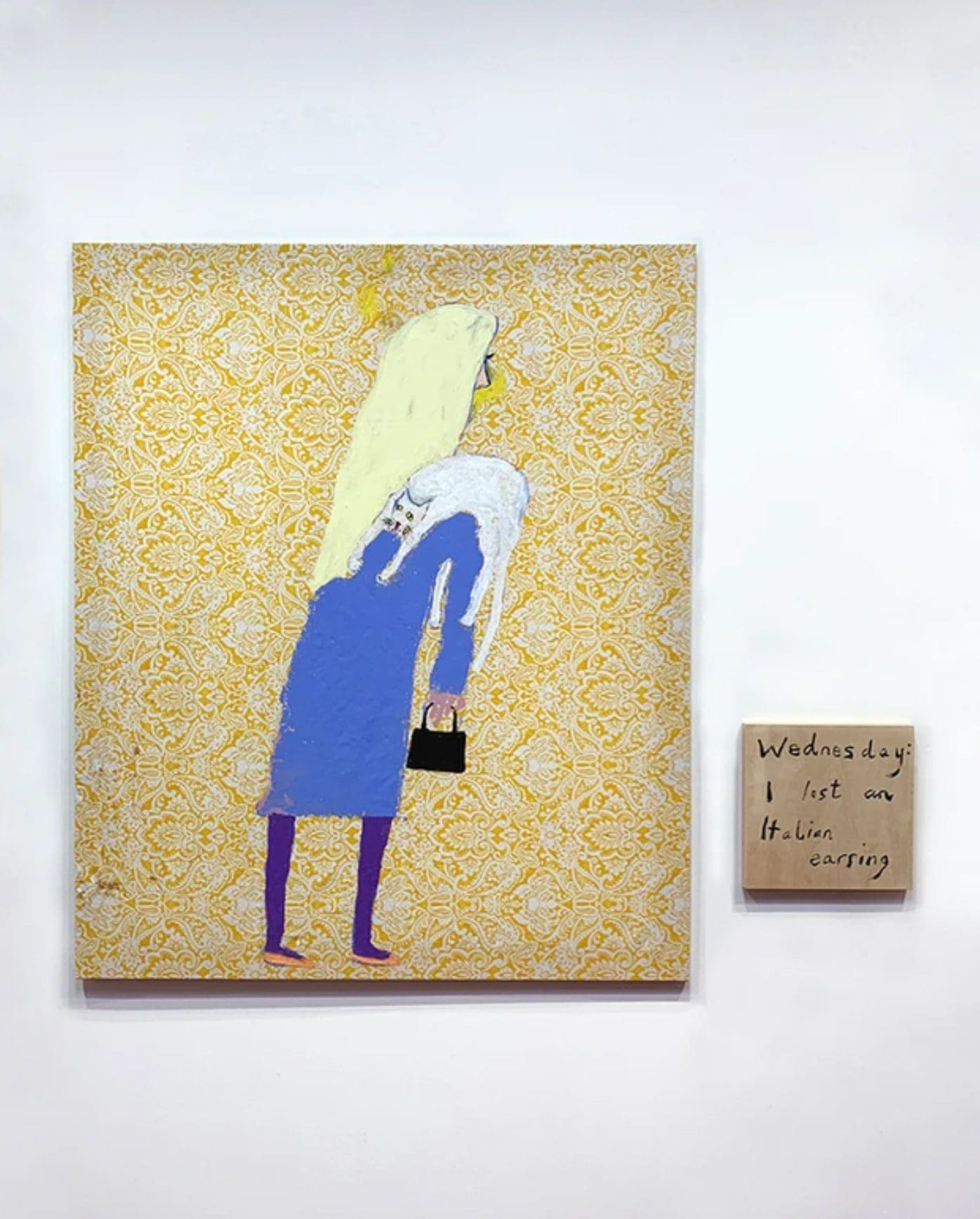 Jenny Watson at GAGPROJECTS
While Pierre Bonnard's white cat is making headlines for its appearance at the National Gallery of Victoria, Jenny Watson has a white cat of her own at GAGPROJECTS. The aptly titled Girl with white cat, blonde hair, blue dress, purple stockings, pink shoes & black handbag is from 2021 but reminiscent of her earlier work from the 70s and 80s, which speaks to the punk, feminist, and horse girl in many of us. Also featured is a new painting, Self-portrait as a teenage artist after the oeuvre of Margaret Keane (Big Eyes), whose ambient swathes of muted colours prove Watson still has tricks up her sleeve.

Country and play at Hugo Michell Gallery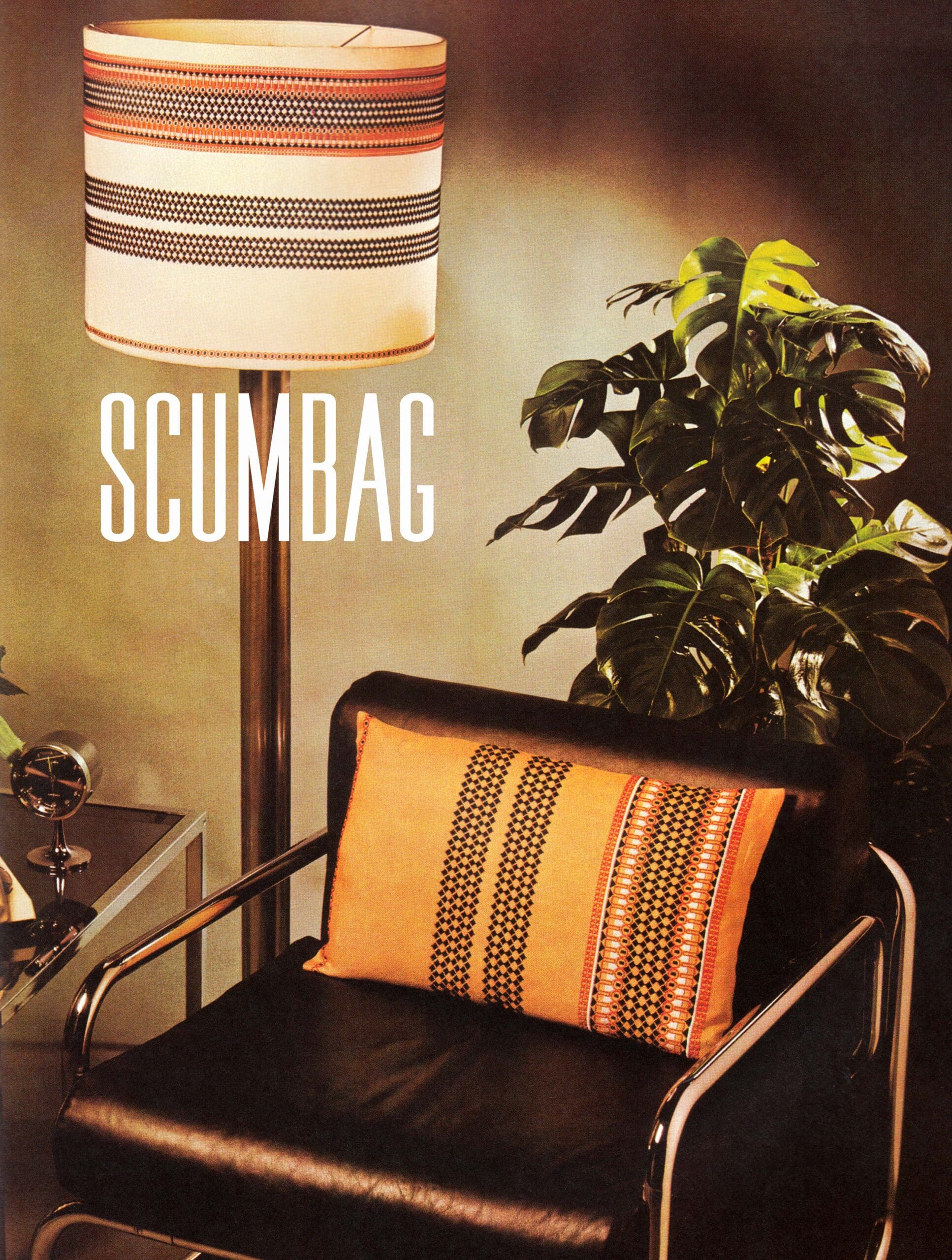 Country and play at Hugo Michell Gallery
South Australia's Hugo Michell Gallery has four artists on offer, as well as an inclusion in Installation Contemporary with Tony Garifalakis's Scum Suite. Among them is Richard Lewer, whose painted interpretation of the seven deadly sins are both soberingly morbid and delightfully playful. And on the adjacent wall are some delicate intricacies from Sera Waters that pay tribute to Country in varied mediums and with varied messages. The stitched scenes framed in gumnuts were a particular highlight.
Still life/home life with Chalk Horse and Arthouse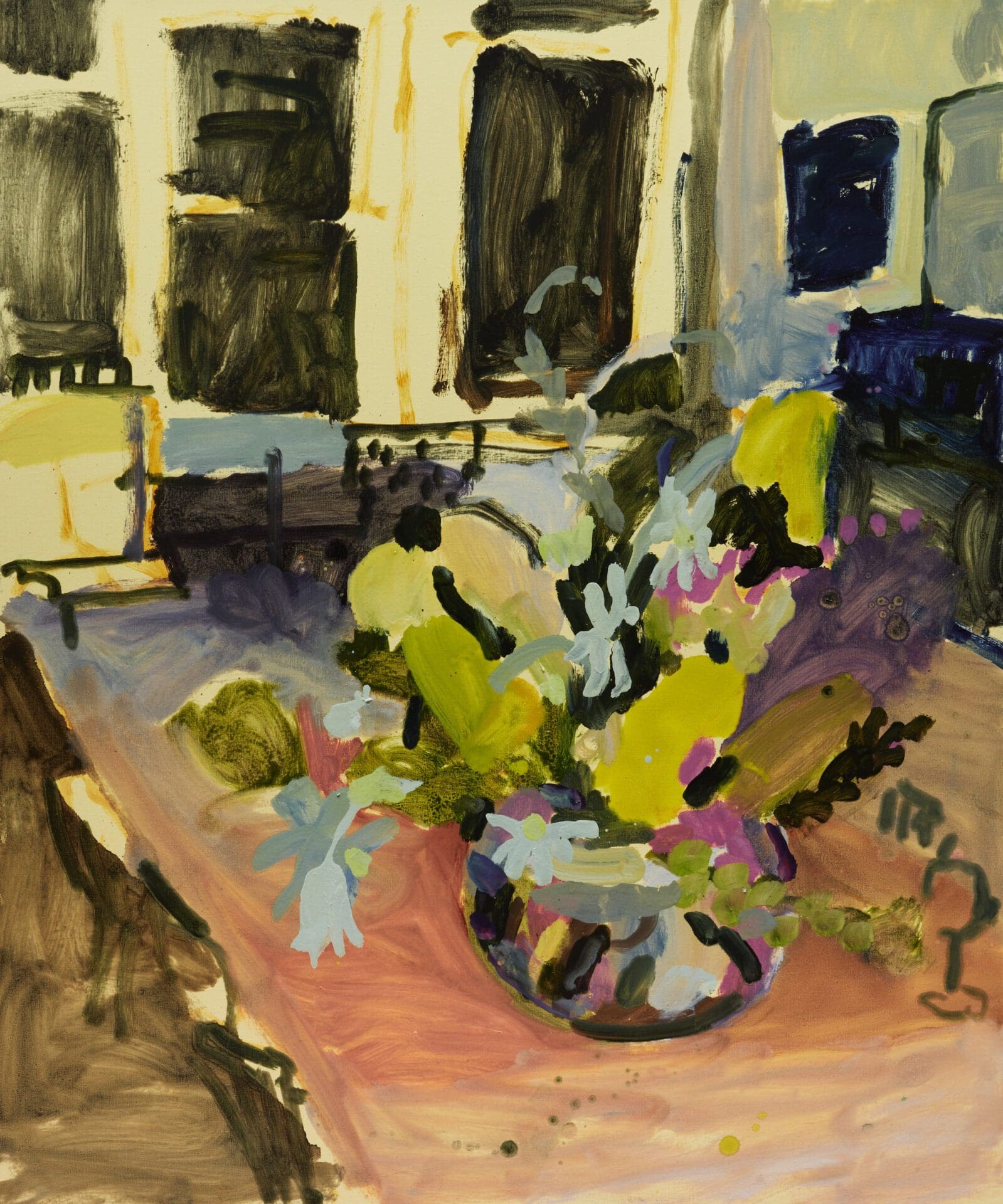 Still life/home life with Chalk Horse and Arthouse
Laura Jones has been painting bold and colourful depictions of the natural world for over a decade, but her new series at the Chalk Horse booth is something else. The evocative florals remain, but alongside them are a number of domestic settings that you just want to step into, such is the energy conjured by almost pulsating paint. Is home life the new still life? Around the corner at Arthouse are two paintings from Nicole Kelly, who has moved indoors from her usual landscapes. The scene's are familiar and inviting, they feel like home.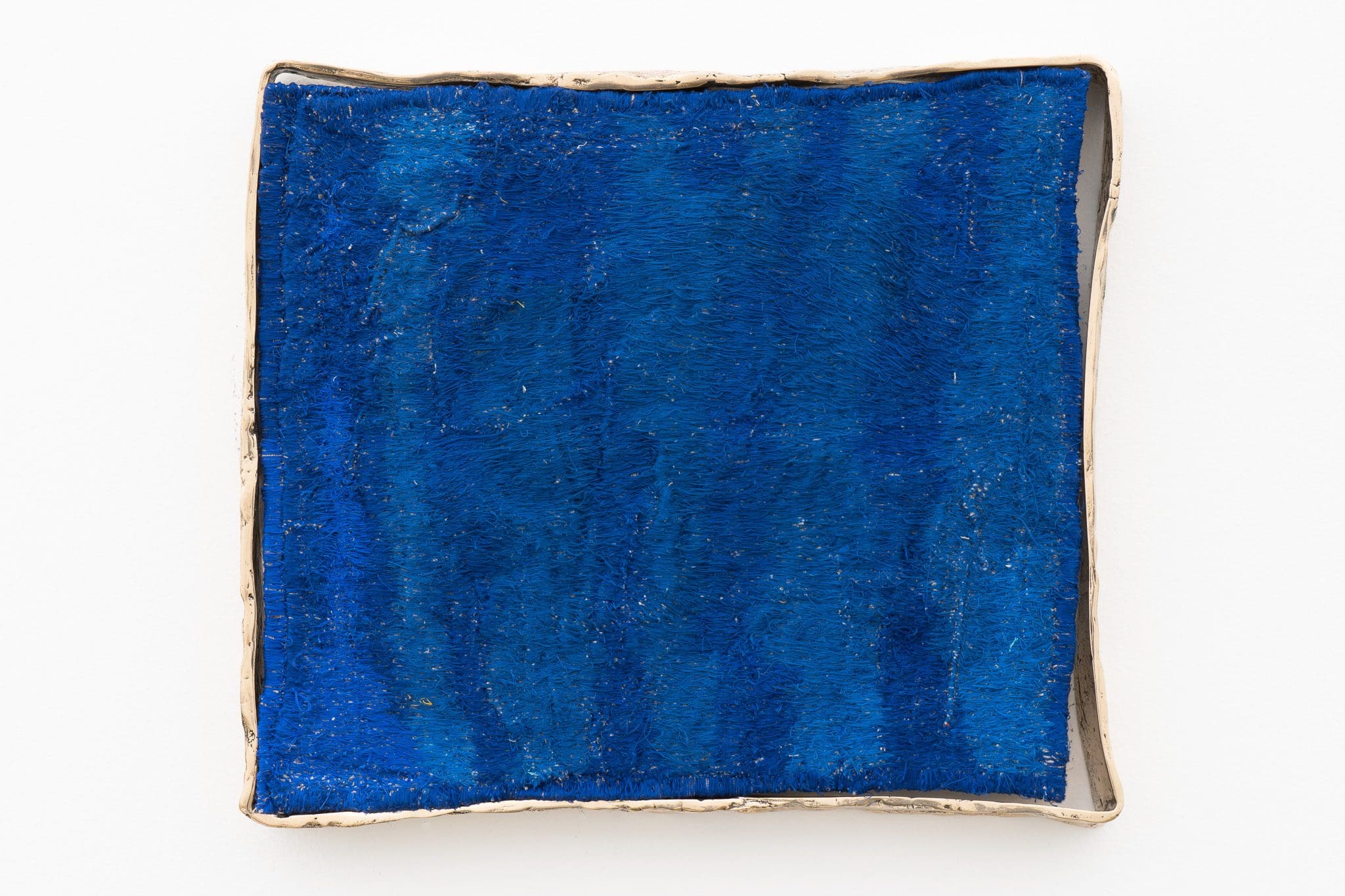 The Neon Parc trio
Neon Parc has brought three artists to the fair: a painter, a sculptor, and a surprise. Josey Kidd-Crowe's offerings in paint are vibrant explorations of the relationship between colour and emotion, and are the perfect accompaniment to the jagged and wriggling sculptures by Nabilah Nordin. The surprise? Teelah George's works initially appear like fluffy paintings. A closer inspection reveals meticulously hand-embroidered textiles in rich hues, ensconced in the most unique burnished bronze frames. A truly terrific trio.