Making art since childhood, as a teenager Virginia Cuppaidge set her sights on travelling to New York City to see the Abstract Expressionist paintings of Jackson Pollock and Barnett Newman in person. In 1969 she touched down in New York with a suitcase and a pink mini skirt, and stepped straight into a 48-year love affair with the city that never sleeps.
"I bought a loft in an old block building on Grand Street in SoHo," remembers Cuppaidge. "It wasn't called SoHo then and when I arrived, it was just old factories and artists were living illegally in them. You had to get a certification from the Parks Department—ironically enough to say you were a certified artist—to show you needed the space to live and work in, which I did."
After setting up her live-in studio, Cuppaidge took advantage of the huge expanses of wall space and began work on one of the many paintings she completed there, a six-metre painting called Cytheria, 1977. Her aim was to create a sense of calm to contrast the frenetic pace of New York. The effect she finally achieved was a gentle gradient of almost translucent colour, fading effortlessly from pale yellow to lilac and orange, so softly applied it appears cloud-like.
"At the time, I was very influenced by Minimalism and wanted to make tranquil paintings with undulating colour. I had no idea how I was going do it, so I just stretched the canvas and started experimenting. I mixed up lots of little pots of paint, changing colours as I moved across the surface with sponges and paint brushes. It took me months to work out and do properly."
Once she began to paint, it was hard to stop. Cytheria marked the start of her Skyspace Series of paintings and from these early days in SoHo, Cuppaidge went on to exhibit over 30 solo exhibitions in New York, Canada and Australia. Her work has been praised by art critics Sister Wendy Beckett and Clement Greenberg, and she was an early member of the Guerilla Girls in New York, a group devoted to raising the public profile of women artists and addressing gender disparity in galleries and museums (Cuppaidge is also part of the Know My Name initiative at the National Gallery of Australia).
In 1992 she started work as associate professor of art at the City University of New York, a position she held until 2008. A Hill End Artist Residency near Bathurst brought Cuppaidge back to Australia in 2010, and it was during this time her love for the bush and unique light of the southern hemisphere resurfaced. She returned to Australia permanently in 2017, settling in Newcastle.
Before she left New York, Cuppaidge came back into possession of Cytheria. It had been over four decades since she had seen it last. Initially Cytheria was sold to an art collector in Pittsburgh who held it in their collection for many years before donating it to Kingsborough Community College in Brooklyn.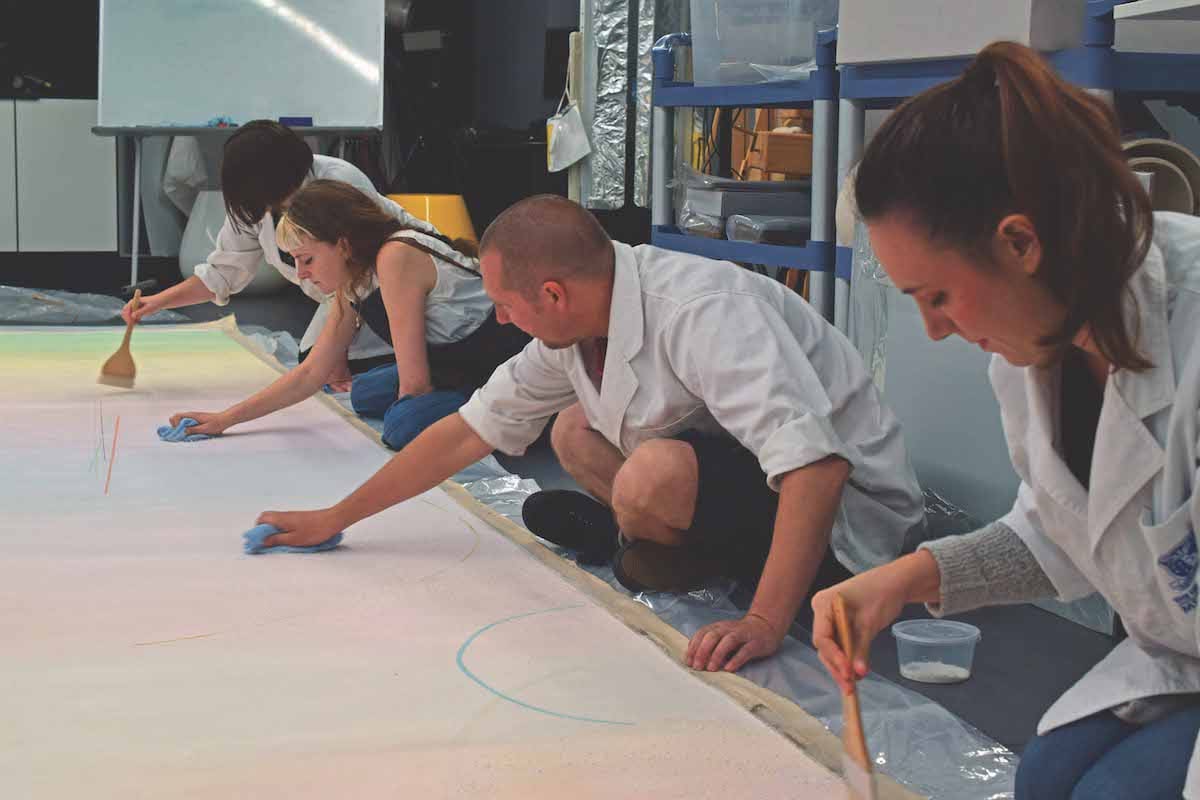 To Cuppaidge's dismay, it had been hung in a cafeteria and sustained significant damage. Grease from food preparation had accumulated across its surface, graffiti appeared in various spots, and a large gash had been torn into the painting. Cuppaidge was asked to reclaim Cytheria and it remained in storage until an acquaintance suggested she contact the University of Melbourne's Grimwade Centre for Cultural Materials Conservation to discuss restoration.
With the help of Melbourne gallerist Nicholas Thompson, Cuppaidge connected with Dr Nicole Tse, a senior lecturer in conservation studies at Grimwade, who agreed to take the painting as a project for students to work on while they studied. "Cytheria was a good challenge for students due to its size, but also because it was painted with acrylics," says Tse. "Acrylic paint only started to be used in contemporary art practice around the mid-50s, so the cleaning of acrylic paintings presents a really topical challenge."
The task of restoring Cytheria to its former glory took multiple groups of Grimwade students nearly two years. Preserving the luminous colours Cuppaidge had taken so long to achieve would prove to be a challenge, but with Cuppaidge back in Australia, she was able to meet with the conservation team and share vital information about her original intent. "Sometimes conservation is seen to be quite static," Tse explains. "Working with the group collectively meant the process was much more activated and being able to talk to Virginia made it really meaningful." Cuppaidge was thrilled with the result. "I visited Grimwade after they had cleaned a quarter of Cytheria, and it looked wonderful, like someone had shone a really bright light on it."
After a pandemic-induced break, the final touches have since been finalised and Cytheria is destined for display with Nicholas Thompson Gallery at Sydney Contemporary. It will be exhibited with a collection of new, smaller paintings revisiting the style of Cuppaidge's Skyspace Series with a brighter palette. "Like Cytheria, the new work is very much about colour and light," Cuppaidge reveals. "Being an abstract artist, you have these abstract ideas and you create a visual problem, and then you solve that problem to make it understandable."
Approaching life in a similar way, Cuppaidge has brought her practice full circle from Australia to New York and back again. "I've done what I always wanted to do since I was a teenager, but you must be dedicated to it. You can't do it lightly at all."
Virginia Cuppaidge at Sydney Contemporary represented by Nicholas Thompson Gallery
Carriageworks (Sydney NSW)
7—10 September