Tarnanthi is a Kaurna word meaning to come forth and appear. It's an apt name for Adelaide's annual Aboriginal and Torres Strait Islander art festival, which this year includes the first-ever survey exhibition by Vincent Namatjira, as well as artworks by over 1500 Indigenous artists, and the annual art fair both online and in person.
While the festival's centre is the Art Gallery of South Australia, it expands across the state to 27 venues. Among the highlights are the Warlayirti artists from Balgo, Western Australia, who went out to Wilkinkarra (Lake Mackay) and painted their impressions of the salt lake, exhibited alongside moving image work. "It's a site that they've all been well aware of all their lives, but for most of the people that went to visit this particular site, this is the first time they've ever had an opportunity to go there," artistic director Nici Cumpston says. "It's a really strong and dynamic group of paintings."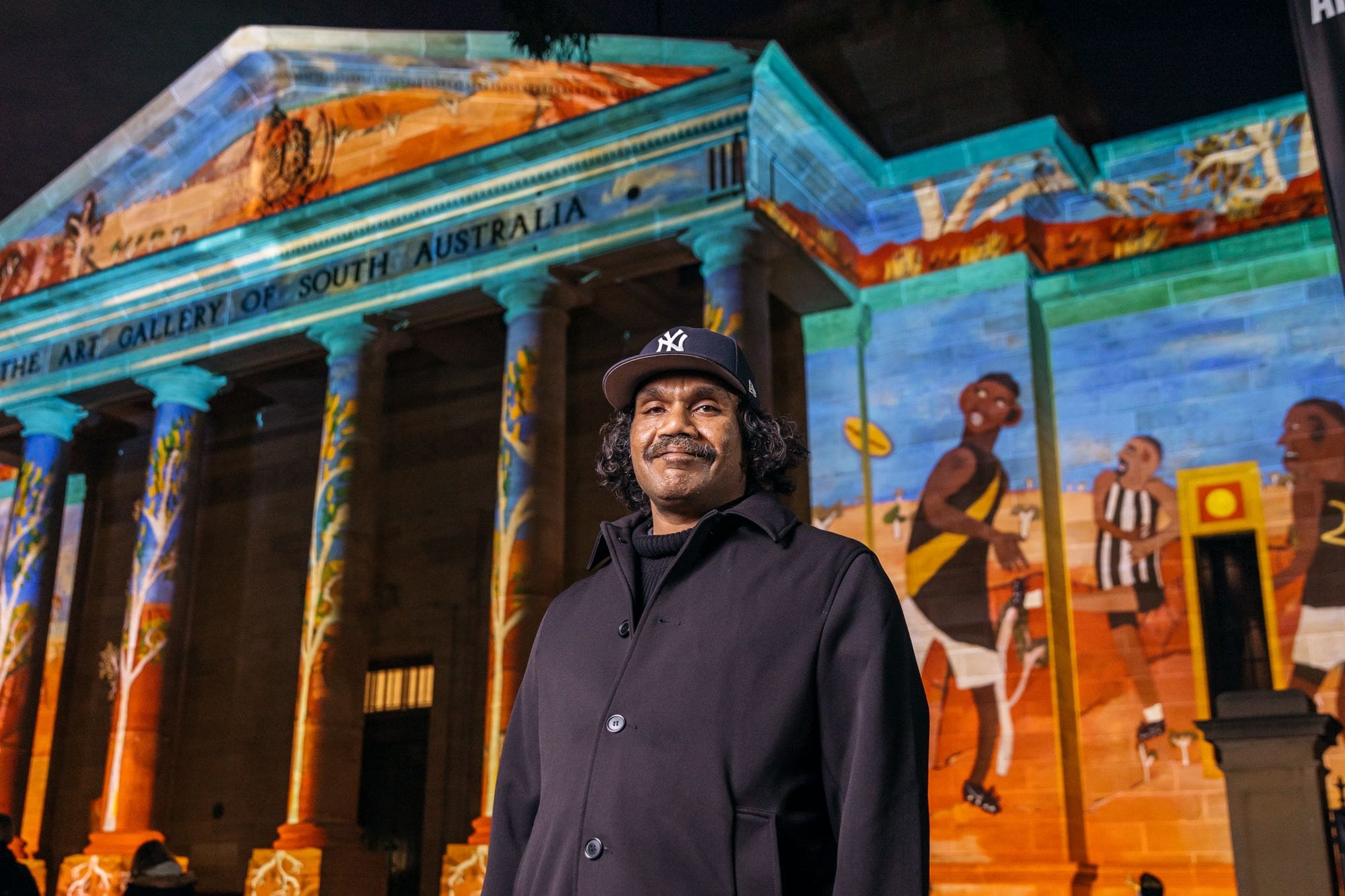 Cumpston also points out work from the late Kunmanara (Ngilan) Dodd of Mimili Maku Arts, whose sculptures create fascinating shapes made of wire from her stockman husband's workplaces; and the women artists from Gunbalanya in Western Arnhem Land. The group makes baskets from pandanus plants and naturally dye them in what Cumpston calls "really bold, incredibly beautiful, delicious colours". As she expands, "They're really celebrating their understanding of when to pick a particular berry to get that deep, rich red of the cochineal colour—really honouring that scientific knowledge that's been passed down." Further highlights also include work by Wally Wilfred, Dora Parker, Janet Fieldhouse and Tiger Yaltangki.
One of Tarnanthi's guiding principles is to challenge perceptions, which means dispelling narrow notions of Aboriginal art, and who Aboriginal people are. "It's about ensuring a broad cross-section of artists from many different walks of life have a chance to share their stories through their works of art."
Tarnanthi
Art Gallery of South Australia alongside state-wide exhibitions
On now—21 January 2024
This article was originally published in the November/December 2023 print edition of Art Guide Australia.