Motherhood, domesticity, landscape, memory—these are just some of the experiences and memories Sally Anderson has captured in her two-decade painting practice, underpinned by a persistent blue.
The outer edges of Sally Anderson's paintings reveal multiple layers of canvas, the evidence of past works painted over yet still present deep within. Integral to how Anderson works, this layering connects to ideas of containment and the action of being physically held. "This could refer to a mother carrying her baby, being restricted to the home, a vessel holding flowers, frames, windows or pools," she says.
"Deep within, her paintings carry autobiographical elements heavy with memory and meaning. Hints to what each painting might embody are alluded to in titles and exhibition names."
Anderson's layered canvases also serve as physical markers of multiple experiences. Motherhood, femininity, domesticity, memory, and place are all major influences on her practice. On the surface, Anderson's paintings depict abstract views of the ocean or landscape, often from the perspective of looking out open windows. Expressive angular brushstrokes of interiors contrast with the flowing lines of the landscape and water. On occasion, a vase holding flowers blooms forth as a central motif.
Deep within, her paintings carry autobiographical elements heavy with memory and meaning. Hints to what each painting might embody are alluded to in titles and exhibition names. "The titles of my exhibitions are always really significant and revealing of the work," says Anderson. "The title is an umbrella the work fits under."
The meanings behind her current exhibition, Carrying Flood Face Flowers are many: the body carrying a child through pregnancy, full shopping bags, pools and baths holding water, the experience of emotional flooding, still life painting, and the 2022 Northern Rivers floods. Anderson also cites Ursula K. Le Guin's essay 'The Carrier Bag Theory of Fiction' as an influence on the exhibition title. Le Guin's essay puts a positive spin on humans and technology, viewing technology as a vehicle to carry culture rather than dominate it.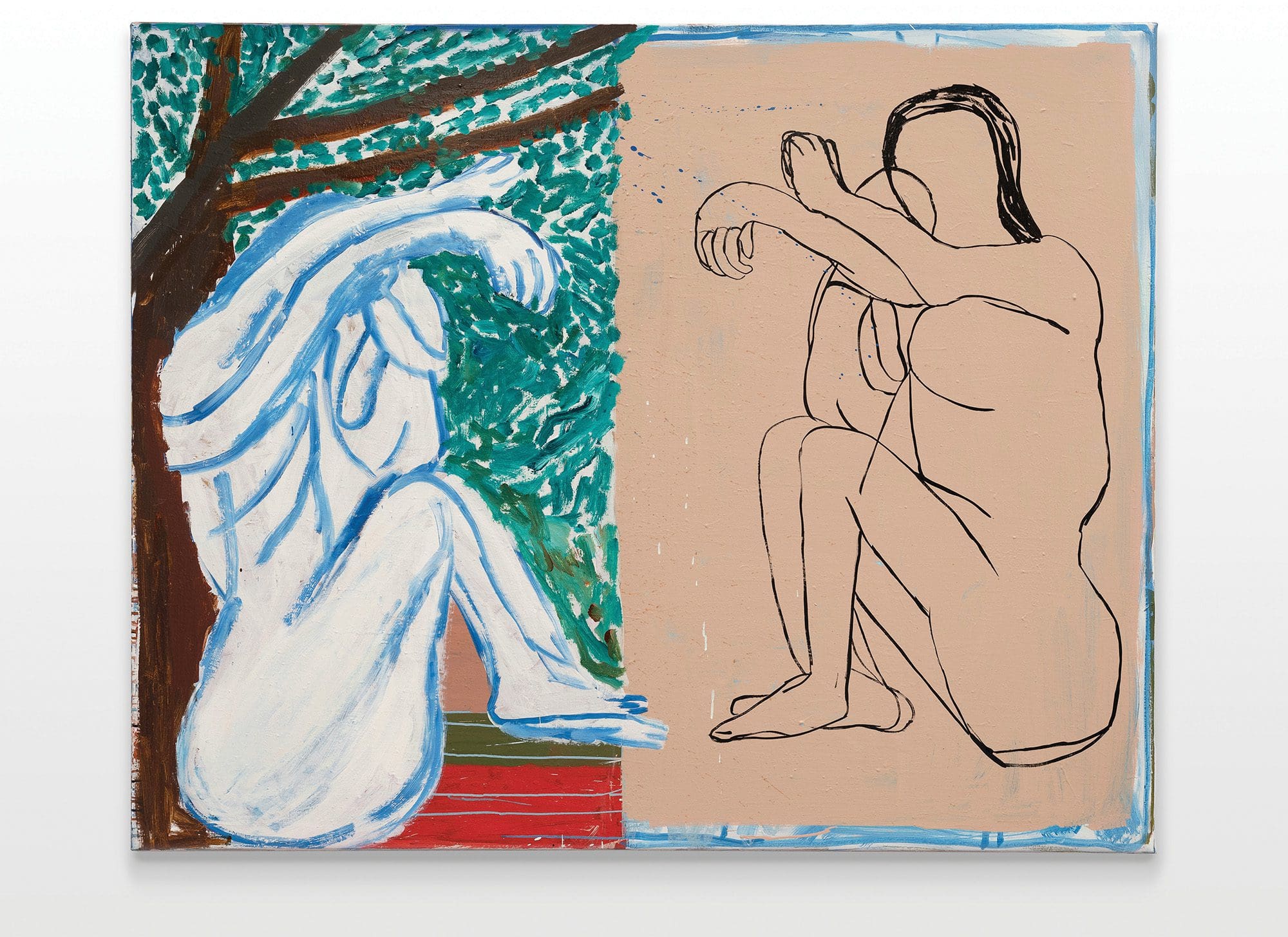 Throughout her painting practice, blue has remained a prevailing colour. "I was initially attracted to blue because of its capacity to reference so much at once," she explains. "Blue is the sea and sky. Blue has also held references to my emotional state as a new mother and the various trips my son and I have made to the Blue Mountains."
"Over time, blue has come to represent other experiences."
Maggie Nelson's 2017 book, Bluets, recently proved to be an inspiring discovery for Anderson. Taking the reader through a poetic journey of emotional highs and lows, Nelson weaves in stories relating to her lifelong love of blue and the artists and musicians associated with the colour, among them Joni Mitchell, Leonard Cohen, Yves Klein and Andy Warhol. As Anderson has pointed out, blue is interwoven into everything.
Over time, blue has come to represent other experiences. "I recently made a body of work inspired by ocean views and eastern suburbs rooftops I sourced from realestate.com as a reaction to my childhood residing in public housing," she says.
"The meaning of these works completely shifted when the Northern Rivers floods happened as they implicated my extended family. My paintings of ocean views now looked like floating, flooded rooftops in Lismore."
While containment remains a major theme of Carrying Flood Face Flowers, Anderson's focus has shifted to views of the home and outdoor locations. "I am interested in how we attempt to authenticate experiences and curate aspects of our lives, and how two or more experiences of the same situation can be true."
Hints of green, orange and yellow are also starting to appear in between the blue. "The paintings are really pushing the concept of multiple realities," Anderson explains. "They don't really show one single reality, they present a multiplicity of landscapes, views and experiences. I think this reflects the modern world we live in, whereby we are inundated and saturated with images and insight into other people's lives. We can be on our own holiday while we are watching someone else's [holiday] on our phones. It's hard to tell what authentic experience is anymore."
In paintings like Nat Silk's Seatown Still Life, PB≈Nude Quilt, Bromeliad Washdown, 2022, multiple meanings are implied. A square view of coastline is cropped by large swathes of white acrylic paint, suggesting parts of the image have been deliberately hidden from view. The landscapes Anderson chooses are sometimes known to her or borrowed from others.
"These paintings re-contextualise screenshots of other people's holidays either sourced on social media or shared via email. The windows in the works allow me to present two experiences at once." A sketchy conglomeration of earth-coloured lines beneath the window recall the spindly veins on leaves, traces of bodily movement or tributaries gently flowing towards the ocean. To the right, a section of painterly blue fades into the edges of the canvas, causing the viewer to question if it is concealing something or if it was part of the original coastline view.
Looking at Anderson's work, it's difficult to withhold curiosity about what might lie beneath the final image, what unseen stories these works might hold. "Someone once told me I paint like a writer—exposing the edits," she says. "The edges are evidence of this process of layering and the history of the painting. It gives the work complexity and a kind of completeness." Much like life itself, Anderson's work makes it clear the journey is just as important as the destination.
Carrying Face Flooding Flowers
Sally Anderson
Edwina Corlette Gallery
(Brisbane QLD)
26 July—17 August
This article was originally published in the July/August 2023 print edition of Art Guide Australia.