The way humans communicate has changed dramatically since the 1970s—yet Wagga Wagga Art Gallery's exploration of prints and posters from 1978 to now might suggest that the more the issues change, the more they remain the same.
Wagga Wagga director Lee-Anne Hall has curated political prints for many years. Her latest exhibition, On Message – Environmental Prints and Posters 1978-2023, traces the conceptual shifts and technological developments that have impacted both what we communicate and how these messages may be printed—all across 45 years.
In creating the show, Hall has drawn on Wagga Wagga's extensive print and poster collection, with a loan of earlier material from the National Gallery of Australia. As she explains, "Environmental issues have been at the heart of much political poster making for some decades. I've included Pam Debenham's No nukes in the Pacific, 1984 poster, and Bob Clutterbuck's Save the Franklin Damn the government, 1982, which protests logging in Tasmania.
"More recent posters, like Thea Anamara Perkins's collaboration with Tangentyere Artists (Alice Springs), target the issues confronting remote Aboriginal communities today, such as fracking and mining. Others protest industrial pollution and climate change; they are calls to action. Within this group of posters you can see how the issues and thinking around the environment has evolved. The climate crisis has seen artists act with even greater urgency."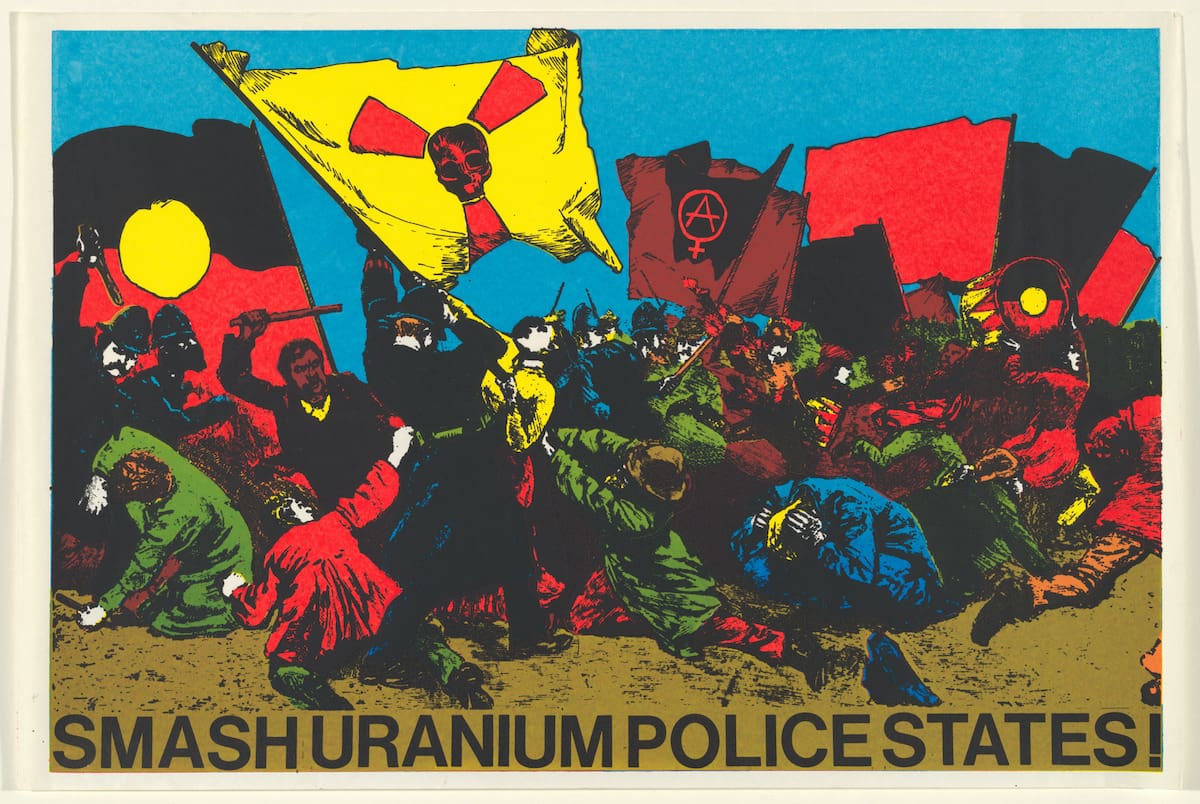 The exhibition is contextualised within Wagga Wagga's annual program Green 2023, a year of the environment, which devotes all activities to climate discussions and required action. It is a significant investment for a gallery located in a large inland farming region.
"It's been incredibly well received," says Hall. "We are getting a lot of traction. The program allows us to facilitate conversations about really difficult subject matter, and you can never know where those conversations will finally land. We are in a crisis, and we are committed . . . However, many galleries do work with artists who are engaged in talking about the environment, to question and critique, or just to remind us of how extraordinary the natural world is—and what we are absolutely losing minute by minute."
It is not uncommon for artists to make political work, with the climate crisis a key area for activist practices. What differentiates posters is that they are made as ephemeral objects. In the 1970s and 80s, the cheapest available paper was used for screen printing, and posters were designed to convey a political message as cogently as possible into the places where they impacted communities.
As the Paris-based Atelier Populaire (the people's workshop that printed posters) claimed in 1968, posters are "weapons in the service of the struggle . . . Their rightful place is in . . . the streets and on the walls of the factories." Hall recalls that in Australia too, "There was an immediacy around posters; they were made for campaigns about issues that artists were strongly engaged with. Some of the earliest ones in the exhibition are around the nuclear threat. Others, like Chips Mackinolty's You Are On Aboriginal Land, 1985, celebrated the hand back of Uluru to its traditional owners."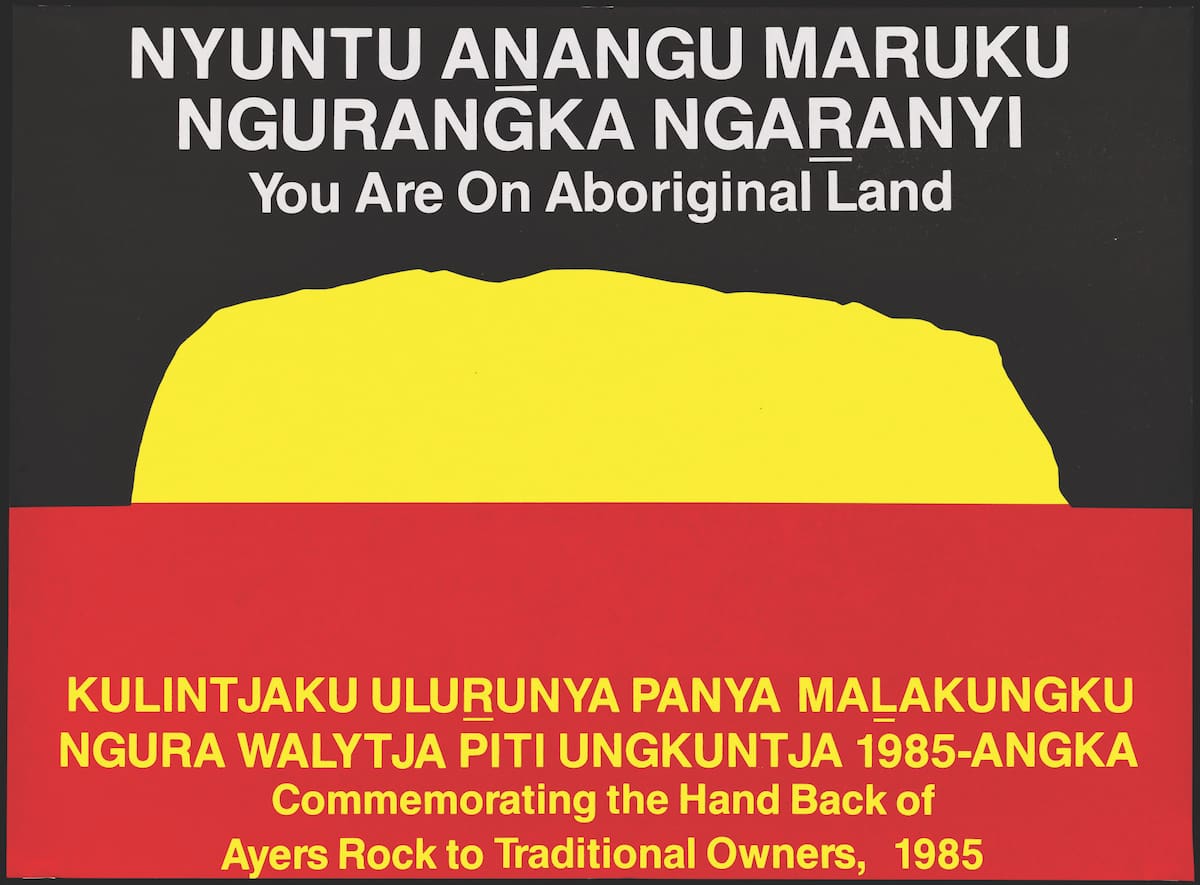 Yet the way that posters are produced and circulated has shifted. Screen printing has become more expensive and contemporary posters may be printed on paper, but using digital or offset methods, allowing larger numbers to be produced.
In recent posters by artists like Julie Shiels and Alison Alder, an interest in the broadest possible audience for their work continues. Shiels uses 17th-century art historical images, altered to draw attention to a witty political message and the climate emergency. Digital means were used by Climarte artists in posters developed in 2019 for city-wide bus shelters. Designed to engage people with climate action, their visual presentation is nuanced, with a design dissonance that stands apart from the easily read advertising imagery often seen on the same sites. Some of these posters, by artists such as Salote Tawale, are also included in the exhibition.
"The climate crisis has seen artists act with even greater urgency."
Hall observes, "While political poster making and screen printing continues to occur, increasingly designers and artists have chosen to communicate more directly with an audience using social media platforms. It is not just technical change, in terms of reproduction, but that the platform itself has shifted."
The relevance of this art form to both the social and political issues faced by contemporary audiences, and their accessibility to a wide community, has continued to engage artists within the shapeshifting form. While the means and the mechanisms have evolved, artists continue to use posters to convey their beliefs. Often tuned into their natural environment, this exhibition documents artists' impetus for change, drawn from images with strong graphic qualities first seen on the streets. It speaks also to Wagga Wagga Art Gallery's ambition: to lead community conversations and create a safe space for the sharing of ideas.
On Message – Environmental Prints and Posters 1978-2023
Wagga Wagga Art Gallery
2 September—19 November