Vincent Namatjira cemented his household name when his portrait of AFL player Adam Goodes, Stand strong for who you are, won the Archibald Prize in 2020. It was the first time an Aboriginal artist had won the prestigious award—and this painting, among Namatjira's wider oeuvre, is showing for his first survey, Vincent Namatjira: Australia in colour at the Art Gallery of South Australia (AGSA).
Bringing together paintings, works on paper and the moving image, the exhibition celebrates Namatjira as a chronicler of Australian identity: an artist who uses humour, caricature and wit to mine politics, money and power from a First Nations perspective. Often portraying himself in his work, Namatjira draws the viewer into his narratives, contemplating Australia's complex colonial past and present—most famously through his portraits of royals, presidents and prime ministers.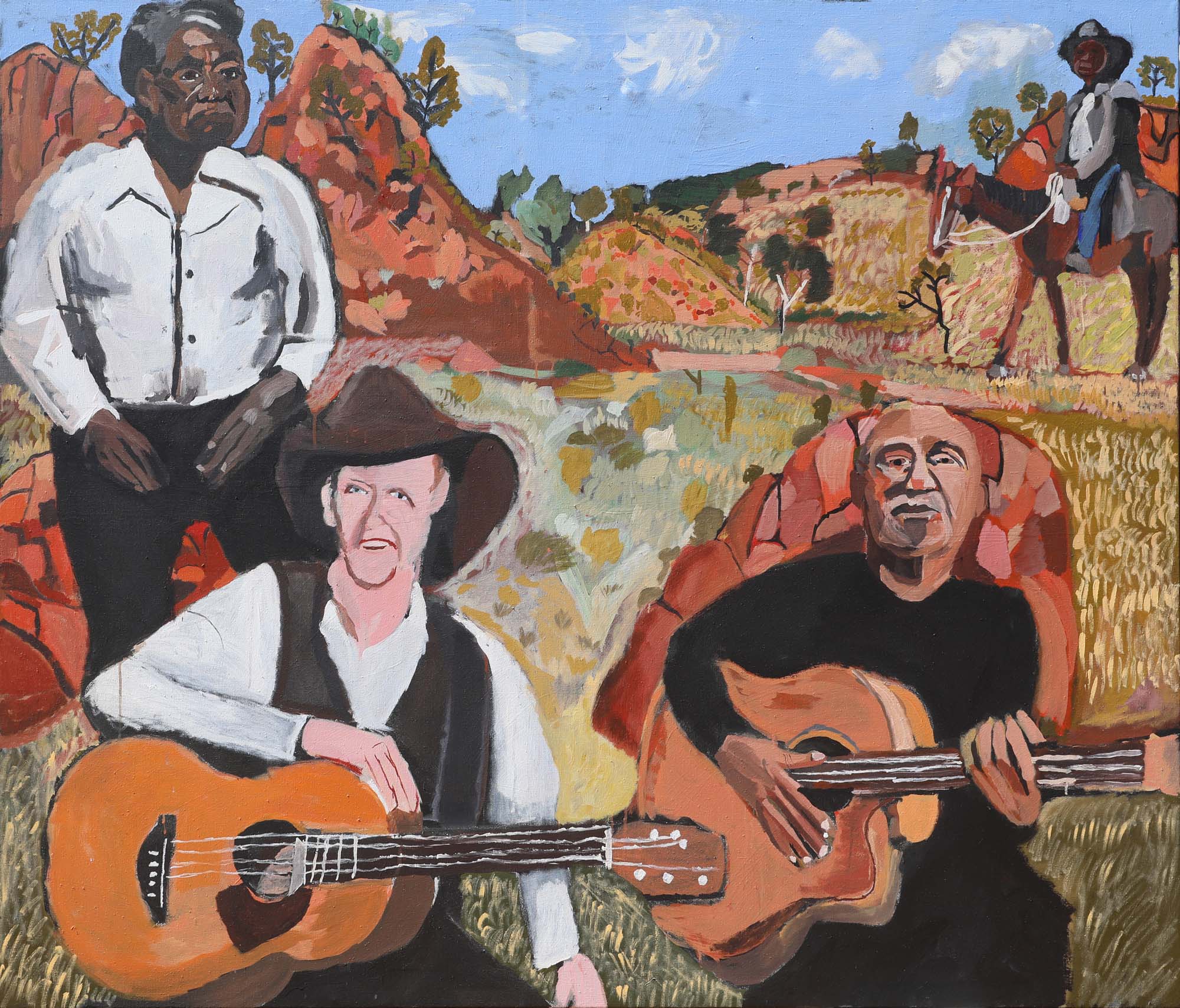 Nici Cumpston, curator of Aboriginal and Torres Strait Islander Art at AGSA, describes how Namatjira has reflected upon his career over the past 15 years, decisively choosing the works presented, and crafting a narrative of personal history. As she explains, Namatjira's practice "works through the premise of equalising powerful people within Australian society with Aboriginal people, by placing them within the landscape and community itself".
Born in 1983 in Alice Springs, Namatjira lives and works across Indulkana in the Anangu Pitjantjatjara Yankunytjatjara (APY) Lands, South Australia. Coming from an artistic lineage—his great-grandfather is Albert Namatjira—Namatjira engages history in the present. As Cumpston explains, "Namatjira pays homage to leaders within his community, including his great-grandfather."
Alongside familial references, the artist celebrates personal and community leaders from footy heroes to musicians. An astute observer of life and popular culture, Namatjira complicates stereotypes and power, one brushstroke at a time.
Vincent Namatjira: Australia in colour
Art Gallery of South Australia
20 October—21 July 2024
Desert Songs
Vincent Namatjira
Yavuz Gallery
5—28 October 2023
This article was originally published in the September/October 2023 print edition of Art Guide Australia.