Seeing elements of reality in abstract art can be complex. As curator Ellie Buttrose suggests, the key is to look longer and deeper. "The fast pace of social media requires us to process images within a couple of seconds. Abstract works might not give themselves up so quickly, but if you do a little bit of work, the rewards you reap are rich."
For Living Patterns, Buttrose brings together artists working beyond the traditional field of abstraction, with Teelah George, Margaret Rarru Garrawurra and Kate Bohunnis among a sizable contingent covering the mediums of sculpture, painting, prints and textiles. "People have been trained to follow the Clement Greenberg American abstraction model that suggests there was no content in abstract work," Buttrose explains. "In Australia we are in a unique position of having a very long history of abstraction, in terms of Indigenous Australian abstraction, that incorporates codification and reduction to create artworks. Codifying stories within the artwork is a way to protect content that is full of meaning."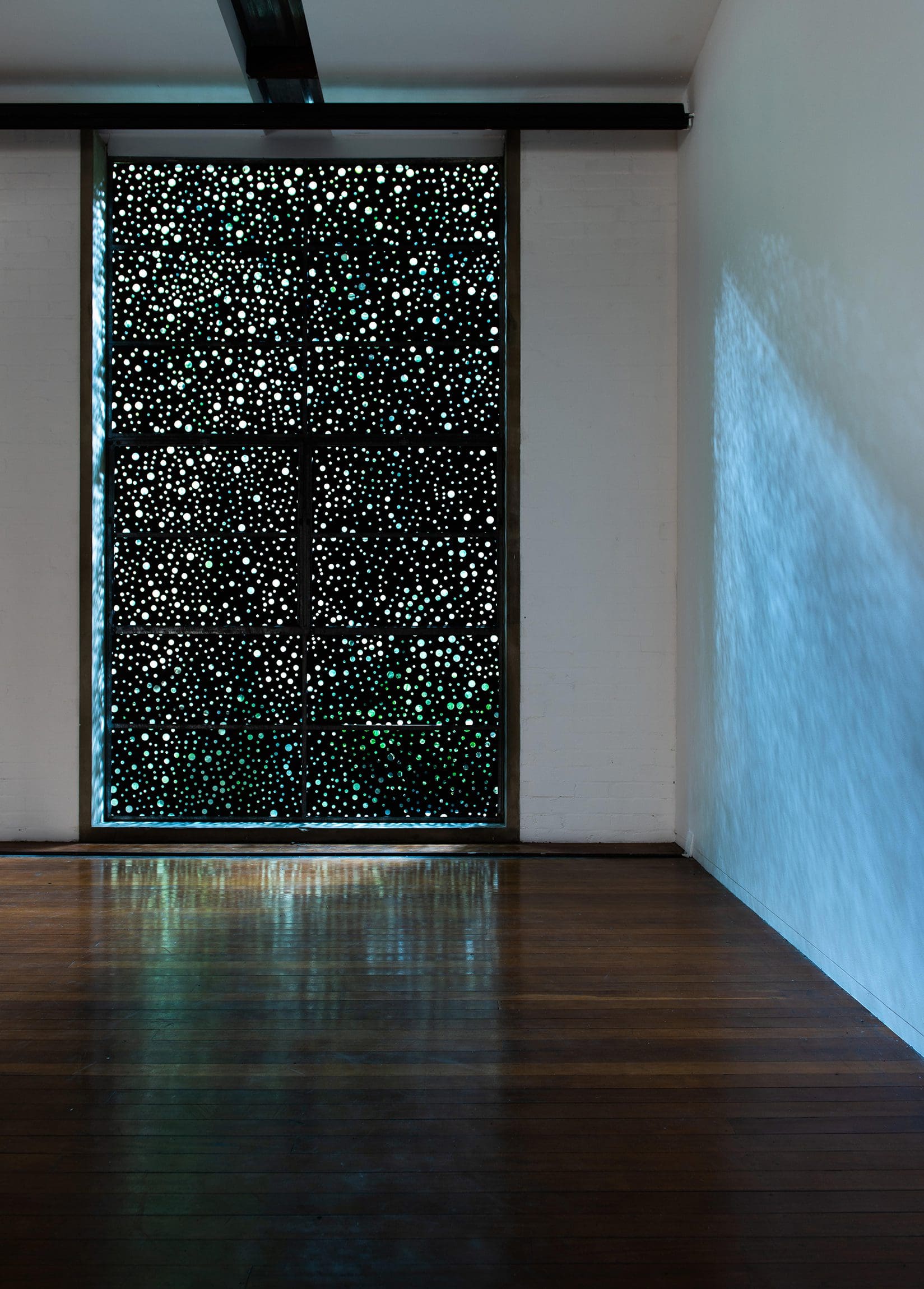 This idea is clearly illustrated in a newly commissioned vinyl work by Daniel Boyd. Covering the gallery's glass entrance, Boyd's imagery blocks the view to the outside, symbolically highlighting the selective nature of what we choose to reveal and what remains unknown.
As Buttrose continues, abstract art takes on many guises. "Different lineages of abstraction are being explored. There are young queer artists talking about abstraction as a political device, particularly in the way bodies or being together in the world can be represented without having to lean on figuration. There are also artists like Lindy Lee who draw on the history of Asian abstraction while the late Hossein Valamanesh brings elements of Iranian and Islamic abstraction into his work. There's a lot of colour, texture and subtlety in Living Patterns."
Living Patterns, Contemporary Australian Abstraction
Queensland Art Gallery
23 September—4 February 2024
This article was originally published in the September/October 2023 print edition of Art Guide Australia.