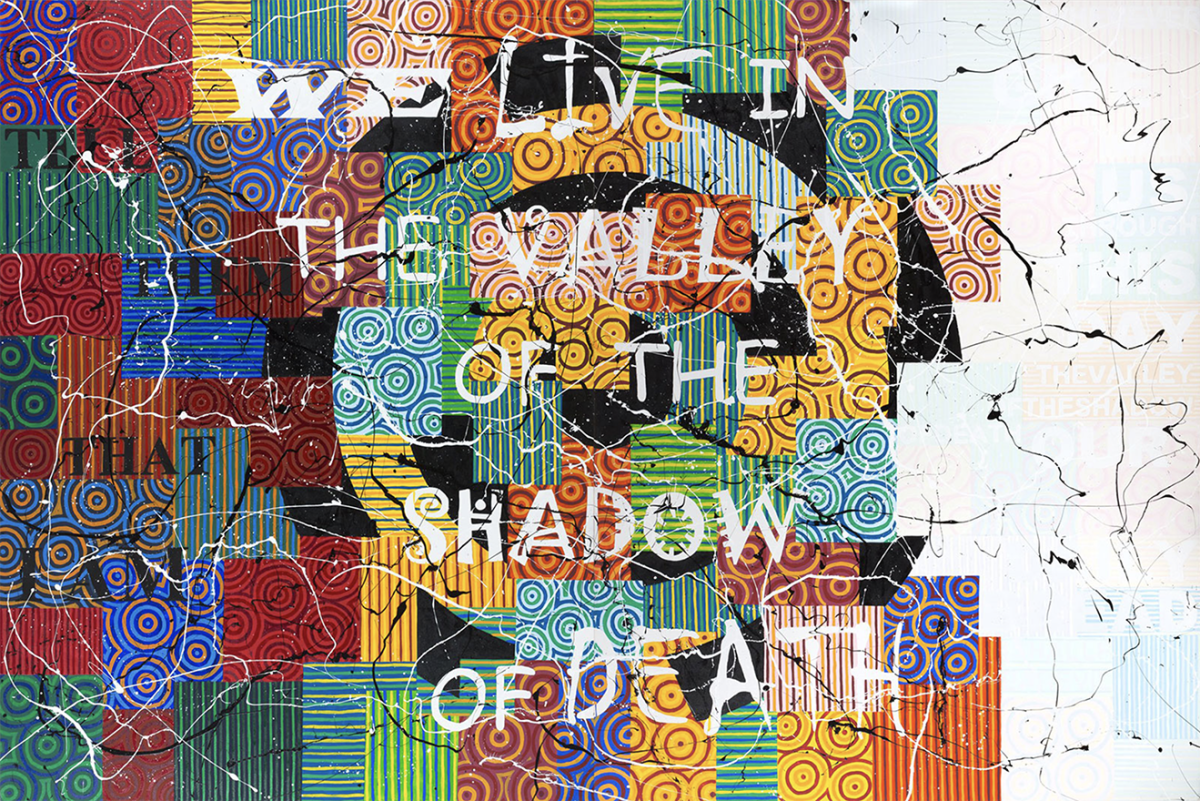 You can go now
Please note the Museum of Contemporary Art is currently open with enhanced health and safety measures in place in accordance with the NSW Public Health Order.
Richard Bell is one of Australia's most important contemporary artists. A renowned activist, artist and political commentator, Bell uses humour, satire and word play to address issues around representation, place, identity politics, and the perceptions of Aboriginal art within a postcolonial history and framework.
Bell was born in Queensland and is a descendant of the Kamilaroi, Kooma, Jiman and Goreng Goreng peoples. This major survey exhibition reflects on the artist's early activism and strong connections with the Aboriginal community in Brisbane during the Bjelke-Petersen regime (1968–87), and his involvement in the Aboriginal community in Redfern, New South Wales. It also explores his relationship with key international figures of the Black Power movement, such as his friendship and ongoing collaboration with American artist and activist Emory Douglas.
Exhibition highlights include significant works such as the first iteration of Bell's Theorem (2002), created around the same time as his now infamous manifesto Bell's Theorem: Aboriginal Art – It's a White Thing! Also featured is the large-scale painting Scientia E Metaphysica (Bell's Theorem) (2003), winner of the 20th Telstra National Aboriginal and Torres Strait Islander Art Award, as well as works with Emory Douglas, and rarely seen collages.
Every video artwork Bell has produced will be on display, including the highly acclaimed Imagining Victory trilogy (2008–13), which includes Scratch an Aussie (2008). For this piece, the artist collaborated with Aboriginal historian, activist and long-time friend Gary Foley to make a satirical video in which Bell plays a 'Freudian' therapist.
A major component of the MCA exhibition will be Bell's Embassy (2013–ongoing), a recreation of the original Aboriginal Tent Embassy, the protest camp set up on the lawns of Parliament House, Canberra, in 1972. Embassy is a public space for imagining and articulating alternate futures and reflecting on, or retelling, stories of oppression and displacement. The project has been exhibited at numerous international exhibitions, including the 20th Biennale of Sydney, Performa 15 in New York and the 57th Venice Biennale. A new Digital Aboriginal Embassy will also be presented as part of the exhibition. A sovereign digital space, it will critique and discuss some of the most pressing cultural issues in contemporary society.
11 Oct - 7 Nov