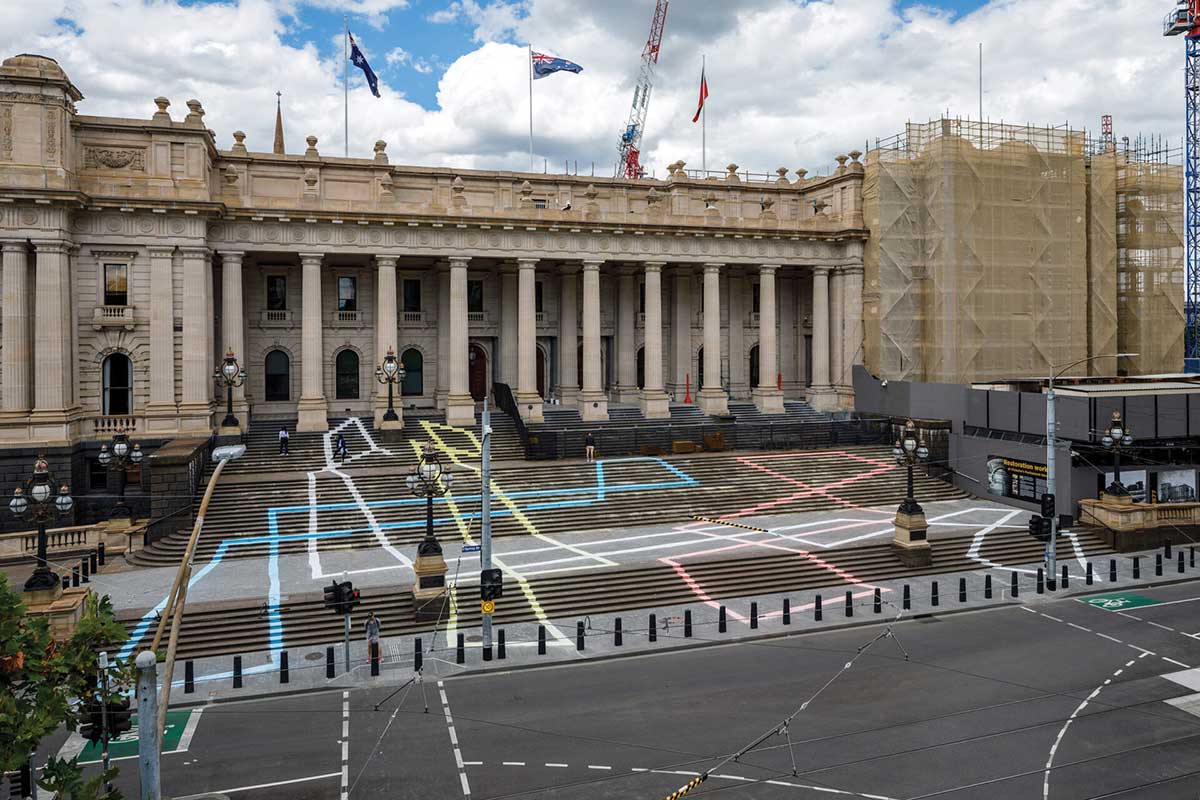 Who's Afraid of Public Space?
Continuing ACCA's series of Big Picture exhibitions, inaugurated with Sovereignty in 2016–17 and followed by Unfinished Business: Perspectives on art and feminism in 2017–18, ACCA is developing Who's Afraid of Public Space?, a major exhibition and research project exploring the role of public culture, the contested nature of public space, and the character and composition of public life itself.
Developed over a two-year period in the lead up to ACCA's summer season of 2021–2022, Who's Afraid of Public Space? will engage contemporary art and cultural practices to consider critical ideas as to what constitutes public culture and ask who is public space for? The project will explore and animate recent global debates and phenomena including the increasing incursion of private interests into public culture; the dynamic relations between urban design, surveillance, regulation and gentrification; as well as related unsanctioned counter-positions, improvisation and play. It will explore ideas of community, collectivity and the commons; the cultivation of fear in media and urban space; ongoing debates related to the freedom of speech, assembly and censorship; and the public broadcasting of private lives. It will also explore the ways in which technology, knowledge and mobility impact upon and transform our understanding of public space, culture and its values. In the wake of the coronavirus, and the rapidly changing pandemic landscape which we are currently negotiating, the project will also consider the radical shift from the civic space of the public square to the virtual space of the digital commons.
Developed by ACCA curators, working collaboratively with a diverse group of artists, academics and cultural producers, the exhibition adopts a collective curatorial model. Whilst centred at ACCA, the exhibition will extend beyond the walls of the gallery into public space itself – through engagement with and interventions into public and urban realms, mainstream and social media, as well as community centres and academic contexts.
Working with an assembly of collaborators and partners, and informed by a number of workshops, think tanks and public projects over the past eighteen months, Who's Afraid of Public Space? is organised according to a dispersed, distributed structure, encouraging a polyphonic and polycentric understanding of our increasingly complex public realm.
4 Dec - 20 Mar