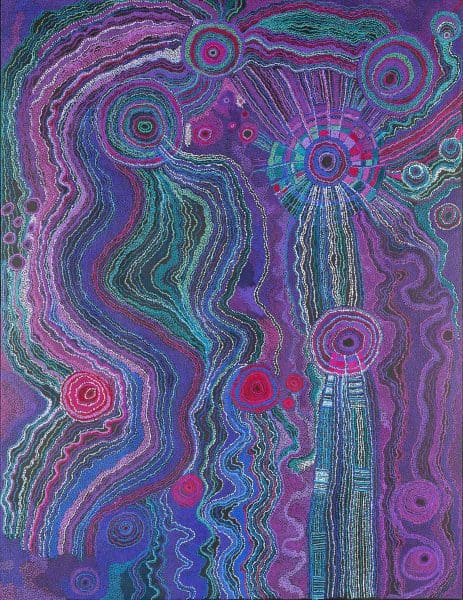 Tjungkara Ken, Ken Sisters Collaborative and Sylvia Kanytjupai Ken
Seven Sisters: Kungkarangkalpa
Please note Jan Murphy Gallery is currently open, however it is recommended that you check the gallery website prior to visiting. This exhibition is also viewable in full online here.
The exhibition 'Seven Sisters' showcases the distinct artistic styles and visions of Sylvia Ken and Tjungkara Ken, two award-winning female indigenous artists, both at the forefront of contemporary painting in Australia. Alongside the work of Sylvia Ken and Tjungkara Ken, the exhibition also features large scale paintings by the renowned Ken Sisters Collaborative (Freda Brady, Sandra Ken, Tjungkara Ken, Maringka Tunkin and Yaritji Young).
Based in the Amata community in the remote Anangu Pitjantjatjara Yankunytjatjara (APY) Lands of South Australia and painting at Tjala Arts, Sylvia and Tjungkara's evocative paintings are a celebration of Anangu culture and connection to country alongside their individual expression of 'Tjukurpa'(ancestral knowledge and law).
Sylvia and Tjungkara paint, in different but related ways, the Seven Sisters creation story, an ancestral narrative of the Pleiades constellations (the sisters) and a sinister man (Orion) who followed them across earth and sky. Both Sylvia and Tjungkara's family are traditional owners of significant sites where the Seven Sisters story takes place with each painting referencing this story and the important sites within the vast landscape. These stories are the artists' birthright and come with a responsibility to continue the passing of culture and knowledge to the next generation.
"I listen to the old people's stories and I think about these stories, and then ideas come for my paintings. I listen to my mother and father, to my grandmother and grandfather. I listen when they are talking about 'Tjukurpa' and telling creation stories and when they say to me 'No, you should paint this way, the Seven Sisters''.
– Sylvia Ken, 2020
24 Aug - 18 Sep