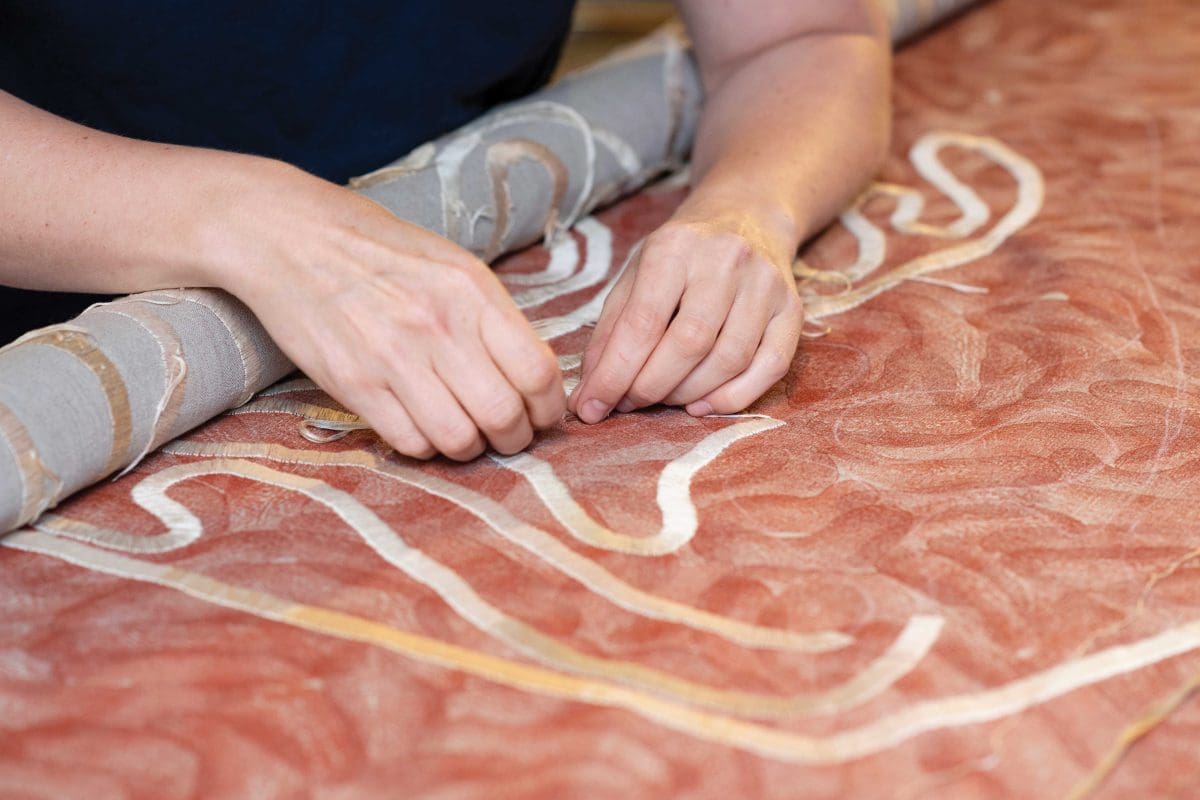 Roost
Food is both material and inspiration for Meanjin (Brisbane) based artist and recipient of the inaugural Judy Wheeler Commission Elizabeth Willing. Working across mediums, Willing explores the role of food in our daily lives, creating works that engage audiences through sight, smell, taste, and touch.
In her new commission, Roost, Willing responds to the architecture of the building's entrance. In the bending and twisting forms of PICA's wrought iron gates, Willing sees a filtration system, a threshold that visitors pass through to take in and digest uncommon experiences. Willing's reimagining of the gates appears as a central motif in a hand-printed and embroidered linen, created for the soaring vertical space of the stairwell, spilling over into a wallpaper in PICA's entry foyer.
Willing has hand-printed the unstretched linen canvas using kipfler potatoes, a signature material of her practice. Printed in a deep brick red, the organic, jostling forms are suggestive of yeast, bacteria, or body cells viewed under a microscope. Linen is a material associated with hosting and domesticity, while the activity of potato printing recalls childhood crafts and the history of the PICA building as a school. Lining the edges of the linen in embroidered text, Willing presents us with a series of words associated with smells she experienced across Perth, with the artwork's title, Roost, a specific reference to a scent encountered behind the PICA building.
Evoking a wide array of experiences, perceptions, and reactions, each detail of Roost tells a piece of a larger story, unfolding into a broader consideration of the rituals and experiences of hospitality, the materiality of food and its relationship with our bodies, and the many varied tastes (and smells) of our city.
10 February—7 January