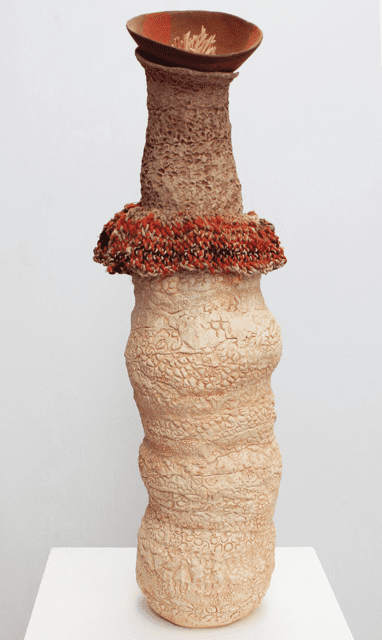 Raw Earth
Inspired by her life in Central Australia and her experience living in remote communities, Claire Freer is presenting new ceramic, textile and sculptural creations deeply connected with the lands she has been living on.
"From 2017 – 2021 with permission from traditional owners from the Ngaanyatjarra Lands I collected wild clays and built coiled forms which I pit-fired in the earth, using the local mulga wood (Acacia aneura). I also experimented with terra sigillata and developed a mulga ash glaze. Working with unknown clay bodies and random firing temperatures I continue to push my practice into new territory.
During Covid lockdown I chose to remain in a remote desert community in WA. Though this period presented challenges of isolation, it was also extremely productive for my creative practice. In this space I became more resourceful in terms of exploring the local area for materials, inspiration and experimentation.
This body of work brings together a collection of pieces in different states of transformation, from the fragmented to the whole, creating a sense of balance and interconnectedness. The work is a journal, rich in place, ideas, stories and shared experiences." – Claire Freer, 2023. 
10 November—18 February