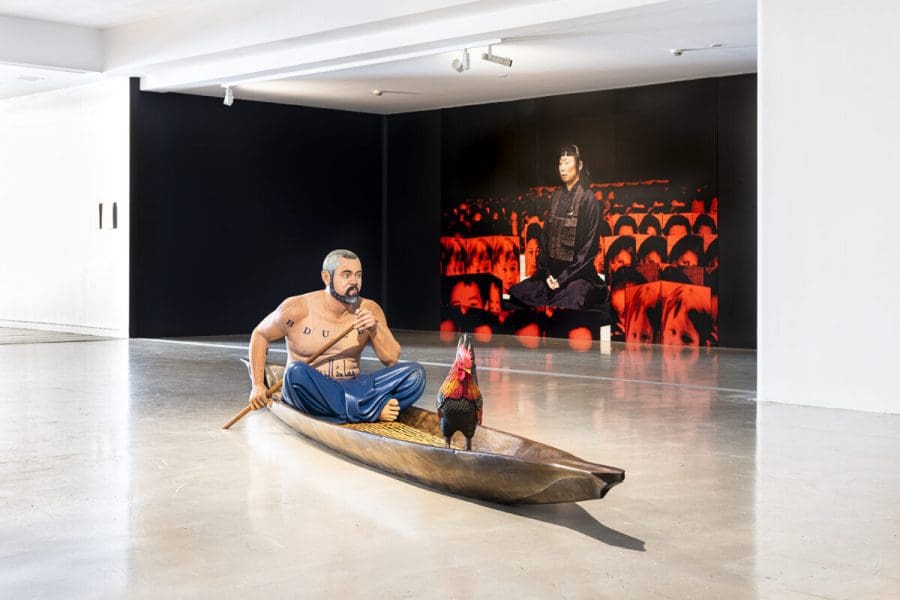 I am a heart beating in the world
Please note 4A Centre for Contemporary Asian Art is currently closed in line with COVID-19 related restrictions. This exhibition is viewable in full online here.
4A Centre for Contemporary Asian Art, in partnership with the International Curators Forum (ICF) and Campbelltown Arts Centre, presents I am a heart beating in the world: Diaspora Pavilion 2 from 22 May – 17 October 2021. The exhibition considers the navigations, imaginings and lived experiences of six artists based in Australia, the UK and the Caribbean: Abdul-Rahman Abdullah, Kashif Nadim Chaudry, Lindy Lee, Leyla Stevens, Zadie Xa and Daniela Yohannes.
Curated by Adelaide Bannerman, Mikala Tai and Jessica Taylor, the exhibition is an ongoing project that explores the distinct and shared reality of living at a distance to ancestral homes. Belonging to a diaspora means that connection to these ancestral homes is often maintained through memories, myths and traditions.  I am a heart beating in the world: Diaspora Pavilion 2 is as much an exhibition as it is a research project, underpinned by fieldwork and reviews of how artists, curators, theorists and institutions engage with diaspora as a topic.
Kashif Nadim Chaudry presents two sculptures, Hareem (2010) and Cabal (2020), which consider the cultural and social forces that inform his experiences as a gay man of Pakistani heritage in the UK. Lindy Lee explores the feelings of absence in the diaspora in the works Fire in the Immanence of Unfolding (2020), Fire and Dew (2020), and Quiescent Mind (2020), and the value of family photographs in Birth and Death (2002) and Twinning Through Jade Bamboo (2015).  Daniela Yohannes also incorporates family photos into her collages a series of self-truths (2018), and offers a meditation on our relationships to 'homelands' in the film Atopias: I Have Left That Dark Cave Forever. My Body Has Blended With Hers (2019). Leyla Stevens' photographic diptych Safe Passage (2013) and film Our Sea is Always Hungry (2018) interrogate what is seen and unseen in the Balinese landscape. Abdul-Rahman Abdullah exhibits two new sculptures, Buraq (2020) and Throne Room (2021), alongside Merantau (2016), all of which connect in different ways to his ancestry in South Sulawesi, Indonesia. Zadie Xa's large tapestry works Pilgrimage 2 Family Through the Portal of a Green Ghost  (2019) and its counterpart Pilgrimage 2 Family Through the Portal of a Blue Ghost (2019) and film installation Child of Magohalmi and the Echoes of Creation (2019) imagine new worlds informed by Korean creation myths.
22 May - 17 Oct