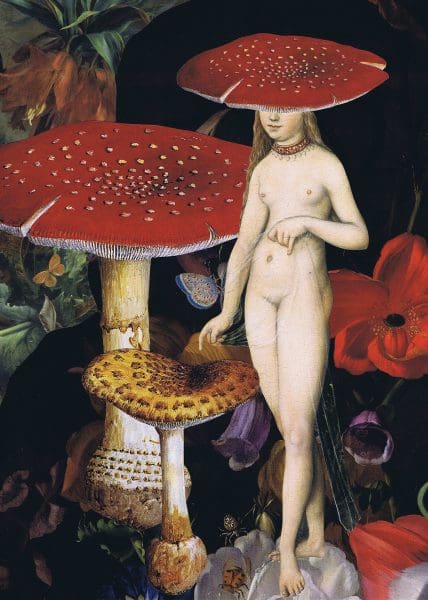 Devotion to the Invisible
'Devotion to the Invisible' is an exhibition of hand-cut collages by Hobart-based artist and writer Bethany van Rijswijk. A visual elaboration on The Invisible Harvest, the artist's publication exploring the history and folklore of poisonous and psychoactive plants, Bethany's inaugural exhibition at Handmark Gallery celebrates the entanglement of human and botanical histories. Often overlooked due to their diminutive size and perceived silence or insentience, plants have shaped our civilisations, altered our perceptions, and enchanted our daily lives for millennia. Through the rebellious alteration of well-known images, along with a playful disruption of scale and import, Bethany repositions plants as key protagonists within her otherworld history.
One in which carnivorous pitcher plants are as large as women, giant poppies cause plagues of ecstatic dancing, and the forbidden fruit is a hallucinogenic mushroom. In presenting this fantastical otherworld, Bethany asks the viewer to look closely, to acknowledge the festival of relationships that surrounds us, and to reconsider our supremacy within it.
11 Jun - 28 Jun