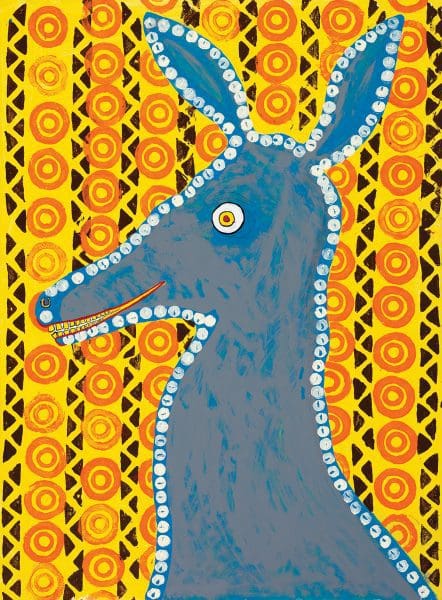 Deadly Narratives: Recent Collection Highlights
Story telling in all forms is crucial to sharing and understanding historic and popular culture.
Deadly Narratives: Recent Collection Highlights brings together Victorian Aboriginal narratives represented by 5 years of art collecting by the KHT since moving to the Birrarung (Yarra) Building at Federation Square in 2015.
The deadly narratives are told through a range of media including acrylic on canvas and board, prints, ceramics, textile, pokerwork possum skin, weaving and jewellery.
Deadly Narratives showcase the unique and important place the KHT collection holds in Victoria and nation-wide. The collection highlights in the exhibition reflect the strong, vibrant and living culture of south east Australia, representing individuals and communities that continue to connect to place and country.
Featured artists: Frank Hood, the Pitcha Makin Fellaz, Mandi Barton, Patrice Mathaymiles Mahoney, Marlene Scerri, Lisa Waup, Lucy Williams-Connelly, Steaphan Paton, Josh Muir, Monique Grbec, Marlene Gilson, Kait James, Uncle Greg Muir, Lee Darroch, Raymond Young, Cassie Leatham, Isobel Morphy-Walsh, Peter Waples-Crowe and Marilyne Nicholls.
13 Mar - 30 May