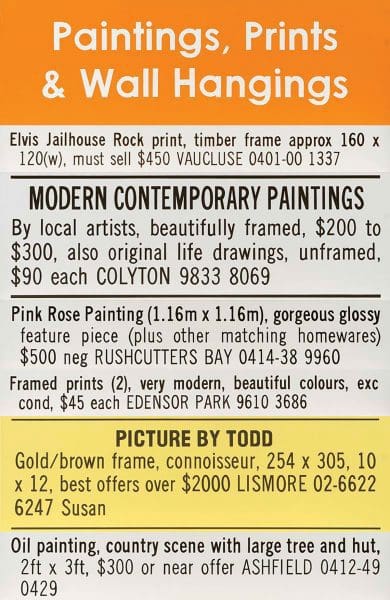 Artwork
Work is an activity that consists of a beginning and an end. It is a purposeful task that requires effort to achieve a result. Synonymous with the known definition of labour it is a tough slog or grind; an action that involves sweat and elbow grease. Work is the opposite of ease, leisure and idleness. Work is a daily struggle in a productive industry.
Curated by Sabrina Baker and Anja Loughhead as part of the Artbank Emerging Curator program, Artwork brings together a selection of works from the Artbank collection that interrogate our relationship to art and traditional notions of labour. The exhibition holds a mirror to the perceived value of arts practice in contemporary Australian society and fiercely champions for its sustained and celebrated place within it.
Featured artists: Claudine Marzik, James Nguyen, Janine McAullay Bott, Judith Kentish, Julie Gough, Kiron Robinson, Lorraine Connelly-Northey, Lottie Consalvo, Maria Josette Orsto, Michael Lindeman, Oscar Capezio, Pat Brassington, Paul Wood, Renee Cosgrave, Rose Nolan.
1 Apr - 30 Jun