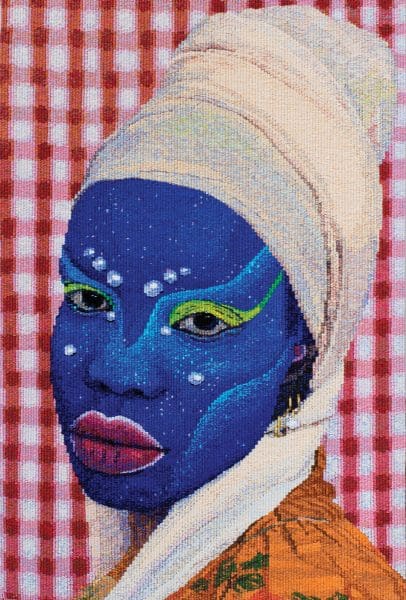 Artist and Weaver: New Contemporary Tapestries
Atong Atem and Pamela Joyce, Lee Darroch and Jennifer Sharpe, Troy Emery and Emma Sulzer, Eugenia Lim and Tim Gresham, Julian Martin with various, Hayley Millar Baker and Amy Cornall.
An exhibition showing the ATW's commitment to encouraging a wide range of contemporary artists to work closely with our master weavers. Through 2020 and 2021 we established two new projects: 'Weaving Futures' and the 'Regional Victoria Tapestry Project'. Each initiative provided artists from around Australia financial support to create new work during challenging times. These artists explored the medium of contemporary tapestry – embracing it to test ideas and expand their practices. Through re-imagining our usual commissioning process, an inspiring portfolio of 'loom ready' tapestry designs emerged – opening up the possibility for these artists to work with the ATW in the future.
For the 'Regional Victoria Tapestry Project', Yorta Yorta, Mutti Mutti and Boon Wurrung artist Lee Darroch collaborated with Castlemaine-based weaver Jennifer Sharpe to create 'Lyrebird Songline possum skin cloak #1' and Lyrebird Songline possum skin cloak #2' – woven translations of sections of the 'Lyrebird Songline' possum skin cloak.
During Melbourne's stage 4 lockdown, 'Weaving Futures' tapestry designs by Arts Projects Australia artist Julian Martin enabled ATW weavers to continue to work at home. This suite of twelve small tapestries is characterised by Martin's rich pastel surfaces and hues.
In 2021, support from Creative Victoria and the Playking Foundation brought onto our looms tapestry designs by 'Weaving Futures' artists Atong Atem, Troy Emery, Eugenia Lim and Hayley Millar Baker (Gunditjmara). ATW weavers Pamela Joyce, Emma Sulzer, Tim Gresham and Amy Cornall collaborated with these artists, working at the forefront of Australian contemporary art practice.
Each artist + weaver collaboration exhibited highlights the vital role creative partnerships play in ensuring the production of innovative contemporary tapestries, from design to finished tapestry.
1 Jun - 13 Aug